Parade held to celebrate South Oak Cliff football team's state title
DALLAS - The South Oak Cliff High School Football team finally got to celebrate making history, becoming the first Dallas ISD football team to win back-to-back UIL state championships.
The Golden Bears defended their state title in December.
Afterward, the parade was re-scheduled because of the arctic blast, but about a month later, the community showed up to support, just like they did all season.
RELATED: South Oak Cliff football team's parade postponed due to arctic weather
Those on the South Oak Cliff varsity football team last year had a feeling of déjà vu, as the Golden Bears celebrated back-to-back state championships on Saturday with a parade in style. 
It featured a line of luxury cars down East Ledbetter Drive.
Alumni Michael Long and his family didn't want to miss it. 
"I think this is a lot bigger," he described the paraded compared to last year.
The community was ready to congratulate the team who won it all.
"I want them to keep on, keep on doing it," said Lillie Jones, who lives in South Oak Cliff. "My team and my guys."
RELATED: South Oak Cliff High School defends 5A Division II UIL state title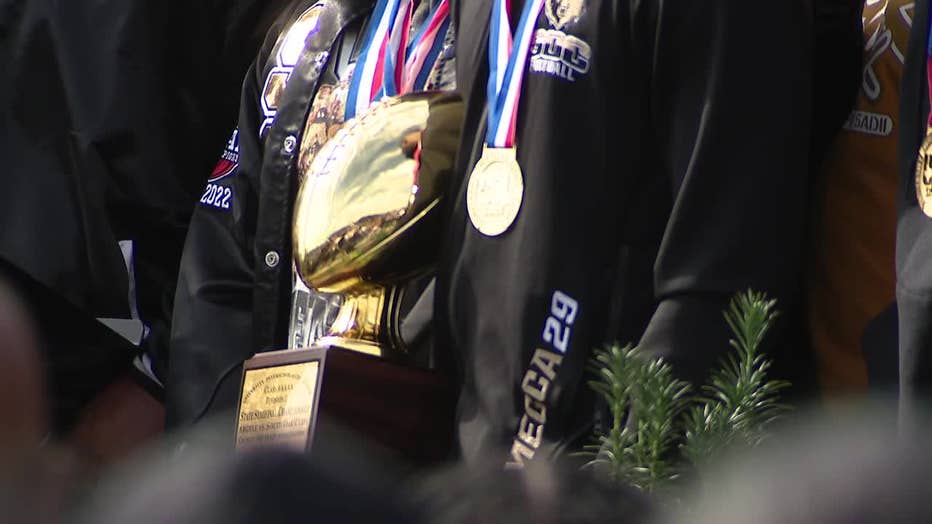 "This lets others know that you can succeed, and you can accomplish anything you put your mind to. It just takes effort, work, and focus," South Oak Cliff alumni Kristi Trimble said.
Those are traits head coach Jason Todd instills in all his players.
The parade ended at South Oak Cliff High School, where Todd spoke to the crowd.
"It's a team thing. It's a we thing. It's us. Those are the words we use for this football team," he said.
Several seniors are now off to play football collegiately, including at SMU, TCU, and Texas. 
But the big question is whether there will be a three-peat?
"The team that is coming back next year is loaded, more than this year. This team is great, and next year will be great as well," running backs coach Chris Pegram said.