Simmering Toronto-Texas feud erupts in Rangers' 7-6 win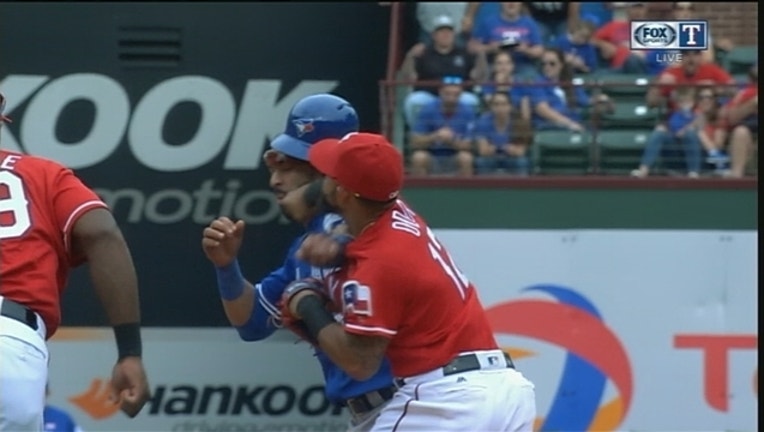 article
ARLINGTON, Texas (AP) — Rougned Odor's powerful punch to Jose Bautista's jaw will be remembered for a long time.
Perhaps it's a good thing the Rangers and Blue Jays have played for the final time this regular season. As for the playoffs, well, that would be interesting.
A feud simmering since Bautista's bat flip in last year's AL Division Series boiled over into a wild brawl that ultimately triggered six of the eight ejections in the Rangers' 7-6 victory on Sunday.
"As far as what happened inside the scrum out on the field, there was a lot of things going on," said Texas manager Jeff Banister, who was making emotional gestures toward nobody in particularly even after the roughly 10 minutes it took for umpires to restore order.
"We could sit here for the next hour and talk about that. But I don't have that time. I've got a bird to catch."
The Rangers were headed to Oakland, and the Blue Jays back home to Toronto, the site of last year's emotional meeting in the playoffs. That's when Bautista capped a wild seventh inning with a clutch three-run homer and the monumental bat flip that angered Texas.
This time, Bautista was upset by getting hit by an eighth-inning pitch from 30-year-old Texas rookie Matt Bush, who got his first major league win two days after his debut — and 12 years after he was the No. 1 overall pick in the draft.
Moments later, Bautista slid hard into Odor on a potential double play and they ended up in a fistfight behind the bag after Odor shoved him.
Players from both teams rushed the field as Odor landed a punch to Bautista's face, staggering the Toronto slugger and knocking off his batting helmet and sunglasses.
"I was pretty surprised," Bautista said. "I mean, obviously, that's the only reason that he got me and he got me pretty good, so I have to give him that. It takes a little bit bigger man to knock me down."
Odor wasn't available to reporters after the game.
Bautista, who was kept out of most of the melee by a bear hug from Texas veteran Adrian Beltre, was ejected as a result of the brawl. Same for Odor, Toronto's Josh Donaldson and Texas bench coach Steve Buechele.
After the field was finally cleared, Blue Jays reliever Jesse Chavez hit Prince Fielder with the next pitch when the game resumed. He was ejected automatically because of the warning issued after Bush hit Bautista.
Blue Jays bench coach Demarlo Hale also was tossed because of Chavez's pitch because he was filling in for John Gibbons. The manager was ejected in the third inning during an argument, but returned to the field during the brawl.
Crew chief Dale Scott told a pool reporter that Gibbons' return "will be in the report and Major League Baseball will take care of it."
"I didn't want to sit here and drink too much wine," Gibbons said. "Ya got to go out there. I'm sure the league will say something about that but it's kind of the manager's responsibility."
Toronto first base coach Tim Leiper was ejected in the third inning in a separate dispute before Gibbons was tossed.
"I think it was just two hard-nosed baseball teams that play the game hard," Banister said. "They like their club. We like our club. I take offense to everybody that thinks this is a game that shouldn't be played hard, that it shouldn't be played with emotion and intensity."
Ian Desmond greeted Chavez (0-1) with a three-run homer with two outs in the seventh, giving Texas a 7-6 lead with a drive to the seats above the tall wall in left field.
Bush (1-0), whose career was derailed by several alcohol-related incidents, was released from prison in October after serving 3 1/2 years in a drunken-driving case that seriously injured a 72-year-old man on a motorcycle. He pitched 1 1/3 scoreless innings.
Bautista's brawl-triggering slide forced Odor to throw wildly to first on an attempted double play on a grounder by Justin Smoak, but Texas was awarded an inning-ending double play on the Chase Utley rule.
Sam Dyson, who gave up Bautista's memorable homer in last year's playoffs, pitched a perfect ninth for his second save.
Gibbons suggested the Rangers were finally retaliating for Bautista's bat flip in the eighth inning of the last of seven games between the teams this season. Texas beat Toronto in a series for the first time since 2012, but the Blue Jays had a 4-3 edge for the season.
"It was ugly and unfortunate," Gibbons said. "To me, it was gutless. The other 29 teams, they come at you right away, but to wait until the end, it just sort of tells you something. Everybody is going to say, 'Oh, it was a one-run game. The ball got away.' That ain't going to fly."
Bautista gave Toronto a 5-2 lead with a three-run double in the sixth. Troy Tulowitzki had three hits and scored two runs.
TRAINER'S ROOM
Blue Jays: LHP Brett Cecil was placed on the 15-day disabled list with a muscle strain in his left arm. RHP Dustin Antolin was recalled from Triple-A Buffalo. Cecil said he felt soreness in his left triceps after a seven-pitch outing in Saturday's 6-5 loss.
Rangers: RHP Yu Darvish will make his fourth rehab start Tuesday for Double-A Frisco at Midland. Darvish will have a limit of five innings or 75 pitches.
UP NEXT
Blue Jays: LHP J.A. Happ (5-0, 2.05 ERA) starts Monday night's opener of a three-game series at home against Tampa Bay. Happ has won seven straight decisions and 12 of 13 going back to last season.
Rangers: LHP Derek Holland (3-2, 6.09 ERA) opens a three-game series at Oakland on Monday night coming off two of the worst outings of his career. He gave up 19 hits and 16 runs, 15 earned, in five innings combined against Toronto and the Chicago White Sox. The latter was interrupted by a rain delay of more than an hour.