Riley's 1st spring as Sooners coach after Big 12 title, CFP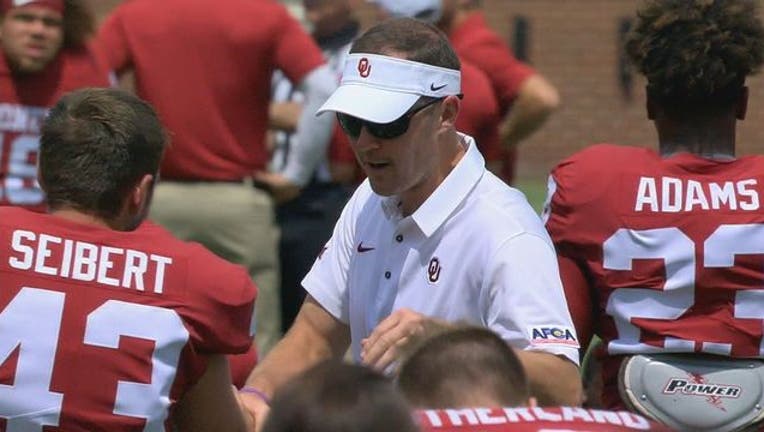 Lincoln Riley has already led Oklahoma to the College Football Playoff and a Big 12 title with a Heisman Trophy-winning quarterback.
Now Riley has completed his first spring as head coach of the Sooners.
"Yeah, we did this one backward kind of ... having been through a whole season, now this is kind of my first spring practice," said Riley, who was Oklahoma's offensive coordinator the previous two springs.
Riley became the youngest FBS head coach last June, three months before his 34th birthday. He was promoted from his offensive coordinator role when Bob Stoops surprisingly retired after 18 seasons, 10 Big 12 titles and a national championship in Oklahoma.
Like several other Big 12 teams, the Sooners will go into the summer unsettled on a starting quarterback.
For Riley's second season as head coach, the Sooners have to find Heisman winner Baker Mayfield's successor. So a big part of his first spring as head coach was prepping a new starter, a process between last year's backup Kyler Murray and redshirt Austin Kendall that will continue into the summer and preseason.
Iowa State still has Kyle Kempt after the former transfer and backup got granted a sixth season of eligibility by the NCAA. But West Virginia has perhaps the most enviable situation at quarterback in the Big 12 with senior Will Grier back healthy after he broke the middle finger on his throwing hand late last season.
"Our challenge is the next guy, and potentially the next guy," West Virginia coach Dana Holgorsen said. "You saw what happened to us last year when our No. 1 guy went down, you've got to have the next guy go in and play at a high level."
Grier, whose 34 touchdown passes were the second most in a season for the Mountaineers, got hurt diving for the end zone on a run in a loss to Texas. They also lost their regular-season finale and the Heart of Dallas Bowl without him.
Oklahoma State senior quarterback Taylor Cornelius is finally getting his chance after only 328 total yards (220 passing, 108 rushing) so far in his career. Mason Rudolph started 41 games for the Cowboys the past four seasons.
"He's been around here forever and his strength is his knowledge of our offense," coach Mike Gundy said of Cornelius. "The only thing we don't know is how well he'll handle playing in games."
Texas (Shane Buechele and Sam Ehlinger), Kansas State (Alex Delton and Skylar Thompson) and Kansas (Peyton Bender and Carter Stanley) all return quarterbacks who started multiple games last season. But none of those teams have declared starters for next fall.
"I haven't given enough thought to if the season started today or tomorrow, because it doesn't," second-year Texas coach Tom Herman said. "I think that's a question that is rightfully answered in training camp."
Some other things to watch in the Big 12 Conference coming out of spring practice and looking to the 2018 season that kicks off Sept. 1:
WISE JAYHAWK
Kansas coach David Beaty believes one of his team's best recruiting jobs this offseason was on defensive end Daniel Wise, who considered leaving early for the NFL draft before returning for his senior season. The 6-foot-3, 290-pound Wise had seven sacks and 16 tackles for loss last season.
"I just remember being every bit as nervous as I am on any commitment that we may be getting,' Beaty said.
RAIDERS DEFENDING
Texas Tech has to find a new quarterback with Nic Shimonek's career done, but the Red Raiders are loaded with returning starters on defense for coordinator David Gibbs' fourth spring.
"I like the steps we made this spring with all the returners back, most of the defensive staff back," head coach Kliff Kingsbury said. "We feel like we've made some strides."
IMPROVING BEARS
Baylor went 1-11 in coach Matt Rhule's first season, but the coach feels like the Bears are improving after his second spring. Five early enrollees went through every spring practice.
"I feel like we're becoming a good football team," Rhule said. "We weren't obviously a very good football team last year. We went from really not very good at all to improved as the season went on. But I think this offseason, this spring practice, has really done wonders for us."
DIFFERENT LEADERS
While 78-year-old Bill Snyder is preparing for his 27th season as Kansas State's head coach, the Wildcats are wrapping up the first spring for a pair of first-time coordinators. Andre Coleman is the new offensive coordinator while Blake Seiler is the defensive coordinator.
___
More AP college football: www.collegefootball.ap.org and https://twitter.com/AP_Top25