Rangers decline options on Chirinos, 3 pitchers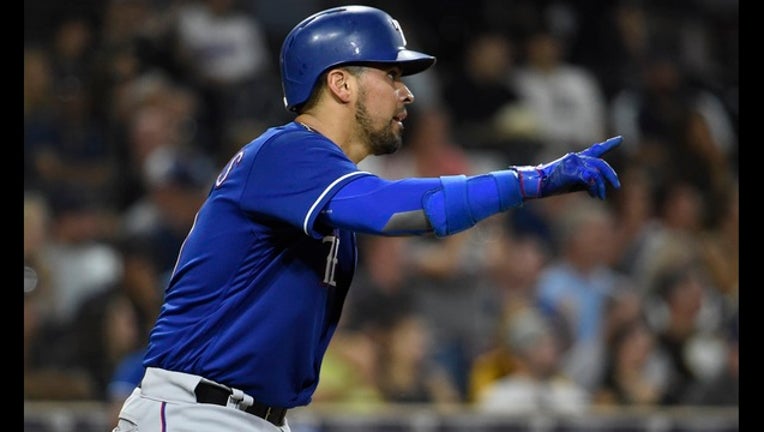 article
ARLINGTON, Texas (AP) - The Texas Rangers declined their 2019 options for catcher Robinson Chirinos and three pitchers on Friday, when their longest-tenured player stayed put.
While the Rangers had been expected to let pitchers Doug Fister, Matt Moore and Martin Perez become free agents, the decision on Chirinos was a bit of a surprise. Their primary starting catcher had a $4.5 million option for next season with a $100,000 buyout.
"We wanted to explore some things in the marketplace. We haven't necessarily closed the door on Robbie by any stretch," Daniels said. "It's just the timing of it. We weren't ready to commit. We wanted to explore potential alternatives behind the plate."
Shortstop Elvis Andrus, at 30 and already with the team 10 seasons, is halfway through a $120 million, eight-year deal that offered him the opportunity to become a free agent this offseason. He also has that option next year.
Andrus, the only player remaining who was part of both of the team's World Series appearances (2010 and 2011), had indicated that he was staying, but Friday was the deadline for that decision.
Andrus hit .256 this season, when he went on the disabled list for the first time in his career and played only 97 games. He missed two months because of a fractured right elbow after getting hit by a pitch in April.
The Rangers last offseason exercised a $6 million club option on Perez before he broke a bone in his right (non-throwing) elbow that required surgery. This time, they chose a $750,000 buyout over a $7.5 million option after he went 2-7 with a 6.22 ERA in 22 games. Daniels said the team could consider bringing him back at a lower price.
"He really didn't bounce back from the injury," Daniels said. "I think it really affected him and led to some mechanical issues."
Moore ($750,000 buyout) and Fister ($500,000) were acquisitions last offseason. Fister began the season as the team's No. 2 starter, but went 1-7 with a 4.50 ERA in 12 starts before going on the disabled list in June with a strained right knee that kept him from pitching again. Moore was 3-8 with a 6.79 ERA in 39 games (12 starts, 27 relief appearances).
The Rangers did add a potential starter when they acquired lefty Drew Smyly from the Chicago Cubs.
That deal, for a player to be named later, came after the Cubs exercised the $20 million option on Cole Hamels, the lefty the Rangers traded to Chicago this summer. Texas would have had to make an additional $6 million payment to the Cubs if the pitcher's option had been declined, triggering a $6 million buyout.
Smyly signed a $10 million, two-year contract with Chicago last December that includes a $7 million salary for next year. He was healthy at the end of last season after recovering from Tommy John surgery. Daniels said Smyly had a physical in Texas, and is expected to have a normal offseason before spring training.
Fister was one of six right-handers Texas activated from the 60-day disabled list. The others were Clayton Blackburn, Matt Bush, Nick Gardewine and Ronald Herrera.
Blackburn, right-hander Austin Bibens-Dirkx, lefty Brandon Mann, catcher Carlos Perez and outfielder Ryan Rua to Triple-A Nashville. All are expected to decline the outright assignment and elect free agency.
___
More AP MLB: https://apnews.com/tag/MLB and https://twitter.com/AP_Sports