Portis leads late rally, Bulls beat Mavs 108-100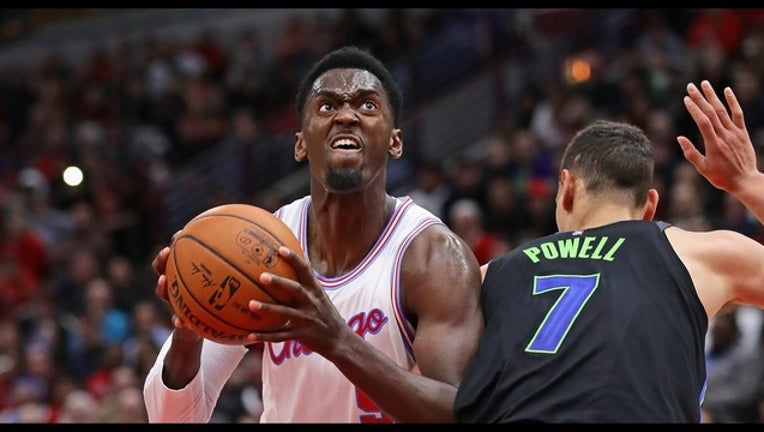 article
CHICAGO (AP) - Bobby Portis scored 22 points and made three straight shots during the decisive run late in the fourth quarter to help the Chicago Bulls roar back and beat the Dallas Mavericks 108-100 on Friday night.
Portis had 15 in the second half and Chicago used a 16-4 run in the final five minutes to end a five-game losing streak.
Kris Dunn finished with 18 points and rookie Lauri Markkanen had 17 points and 12 rebounds as Chicago won for just the third time in 16 games.
Harrison Barnes scored 26 points and rookie Dennis Smith Jr. had 25 as Dallas lost for the 13th time in 16 games. The Mavericks have dropped six straight on the road.
Portis made a layup with 4:09 left to tie it at 96, then hit a turnaround jumper with 3:44 remaining to give Chicago its first lead. Portis followed up with a layup to make it 100-96.
Then 3-point shots by Dunn and Markkanen and a jumper by Zach LaVine, who had 16 points, sent the Bulls to the win.
Dirk Nowitzki had 18 points. The 39-year-old German's season high was 22 against the Lakers on Feb. 10.
For most of the game, Smith stood out against Markkanen in a matchup of 20-year-old rookies. Markkanen entered fourth in rookie scoring (14.8 points per game) and Smith fifth (14.6).
Dallas settled for a 49-47 lead at the half after opening an 11-point lead in the first quarter and 14-point advantage in the second. The Mavericks raced ahead 10-0 just 3:12 in on Barnes' driving dunk and went up 21-10 on Smith's jumper with 4:51 left.
Dallas stretched the lead to 42-28 on JJ Barea's 3-pointer 4:04 into the second quarter, but an 11-0 run, capped by LaVine's three-point play, got the Bulls back into the game.
The Mavericks made their first five field goal attempts of the third, including consecutive 3s by Wesley Matthews, Smith and Barnes to open the lead to 62-52. Dallas stretched the lead to 73-59 on Smith's running layup midway through the quarter.
TIP-INS
Mavericks: Smith scored 15 points in the first half on 6-of-9 shooting. . Barnes scored in 13 in the first half, going 6 for 12 from the floor. . Forward Nerlens Noel played 15 minutes in his second game back from thumb surgery.
Bulls: Center Robin Lopez was inactive for a fifth straight game. . Forward Jarell Eddie, who was signed to a 10-day contract, was assigned to the G League Windy City Bulls on Friday.
TAKING AMES
Three of four NBA players from Ames, Iowa were in the building. Barnes and fellow Dallas forward Doug McDermott, along with Bulls coach Fred Hoiberg, all attended Ames High School. Hoiberg went on to play at Iowa State, located in Ames, before 10 NBA seasons. He returned to Iowa State to coach for six seasons.
Dick Gibbs, 69, was the first Ames high school prrduct to play in the NBA (1971-76)
UP NEXT
Mavericks: Host New Orleans on Sunday night in the opener of a four-game homestand.
Bulls: Host Boston on Monday night.