Oklahoma T Brown improves on poor combine showing at pro day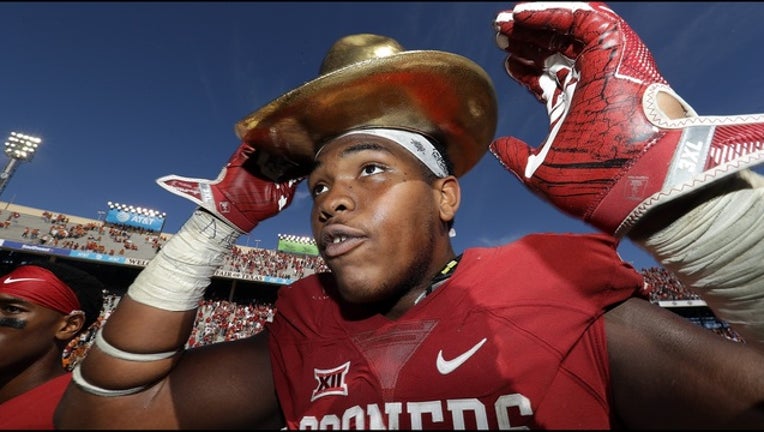 article
NORMAN, Okla. (AP) - Oklahoma left tackle Orlando Brown was livid after his dismal performance at the NFL scouting combine and its aftermath.
Texas quarterback Sam Ehlinger, media and family members were among those who criticized him after one of the worst combine performances ever. Brown said one fan sent an unflattering message in German that he had to have translated to read.
"I've been having to stay off Twitter," he said, laughing. "There's so many 12-year-olds in my DMs (direct messages) telling me they're stronger than me."
The combine numbers that drew the most scrutiny were his 14 repetitions at 225 pounds on the bench press and his 5.85-second 40-yard dash. Brown said he got out of rhythm on his breathing technique on the bench press, and the resulting disappointing performance messed him up for the rest of the combine.
He answered his critics at Oklahoma's Pro Day on Wednesday. He did 18 reps on the bench press and ran a 5.63 40-yard dash.
He had a special answer for Ehlinger.
"We can meet at the Cotton Bowl if he'd like," he said. "It don't matter to me. I'll come down to Austin. It is what it is. If he wants to fight, we can fight. Football, football. Whichever one he wants, man. He can bring the whole crew."
Still, Brown called his performance at the combine "horrible," and understood why Ehlinger made jokes at his expense.
"Those were numbers that were low for me," Brown said. "During my preparation, during my training, I was running a 5.6, I was benching 18 to 20 (reps) consistently. Coming out there at the combine, my mentality, the bench happening, it just snowballed."
He decided he would stay on course regardless at Pro Day.
"I just told myself no matter what happens, I'm going to go," he said. "I'm not a person that gets down on myself like I did at the combine. I'm a person that perseveres. I think I showed that today."
Brown also improved his broad jump from 82 to 89 inches and his vertical jump from 19.5 to 25 inches. Oklahoma quarterback Baker Mayfield said he was glad to see Brown improve.
"That was awesome," Mayfield said. "We knew what he was capable of. We've all seen it. All the combine testing doesn't really matter when you give up zero sacks (last season). He did well today. Saved some face and put himself in a better spot."
Oklahoma coach Lincoln Riley said last week that Brown's performances against Georgia, Clemson, Auburn and Ohio State should outweigh the combine numbers.
"I get it," Riley said. "I know they want to test the physical skills. What that guy is gifted at is playing tackle and playing football. I told him to keep the main thing the main thing. Train hard and be ready to put your best foot forward on pro day. Most important thing is that film. He can run whatever."
Brown believes he's still a first-round pick, even though the consensus among experts was that he dropped at the combine.
"I think I'm an unusual prospect in the way my film is and my unusual testing," he said. "That's a pretty big deficiency. Hopefully these coaches recognize who I am as a person and understand I'm going to continue to work. The fact of the matter is I want to be the greatest. That's just the mentality I'm going to approach it with."
___
Follow Cliff Brunt on Twitter: www.twitter.com/CliffBruntAP
___
More AP college football: http://collegefootball.ap.org and https://twitter.com/AP_Top25