No. 8 Cincinnati tops SMU 61-51 in AAC quarters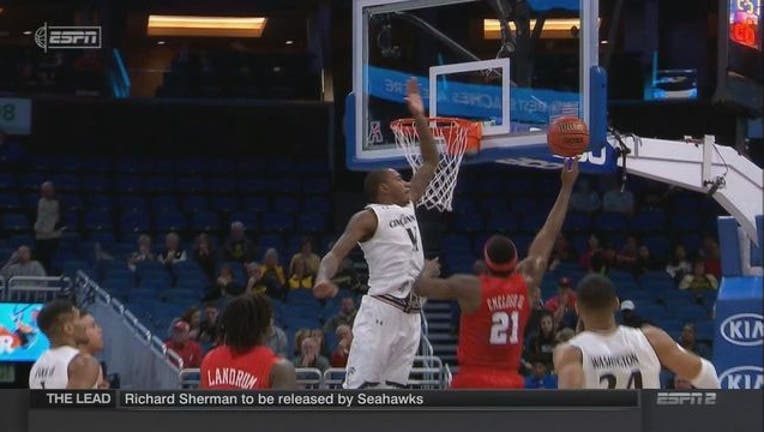 ORLANDO, Fla. (AP) - Kyle Washington scored 15 points and Gary Clark added 12 points and 11 rebounds Friday to help No. 8 Cincinnati beat SMU 61-51 in the quarterfinals of the American Athletic Conference Tournament.
The Bearcats also got 13 points from Cane Broome and rallied from a six-point second-half deficit to move on to the semifinals against the winner of the Tulsa-Memphis game.
Jahmal McMurray led SMU with 17 points and Ben Emelogu had 11 points and seven rebounds. The Mustangs got eight points and six rebounds from their best big man, Akoy Agau. But Agau reinjured a severely sprained ankle on the first possession of the game and wasn't much of a factor in his 24 minutes.
It took Cincinnati nearly 35 minutes - and 10 misses - for the Bearcats to make a 3-pointer, but it proved the turning point. Cincinnati finished the game 2 of 14 on 3-pointers.
Broome made the first 3-pointer with 5:34 left in the game, then got fouled on his next 3-point attempt and made all three free throws. Clark connected from the corner for another 3-pointer and suddenly the Bearcats had a 57-47 lead with 3:27 left in the game.
Agau hit a 3 to start a 7-0 spurt by SMU that gave the Mustangs their biggest lead, 38-32 with 15:27 left.
The Bearcats, however, converted four straight offensive rebounds and added a layup by Tre Scott to regain the lead 42-38 with just over 11 minutes to play.
Cincinnati hit only two perimeter shots in the first half, but still led 28-27 at the break thanks to eight offensive rebounds. Washington scored nine points, all in the paint, to keep Cincinnati afloat.
BIG PICTURE
CINCINNATI: The Bearcats got the dreaded first game of the tournament jitters out of the way. Cincinnati was very good defensively, as usual, but the Bearcats' perimeter players, especially Jarron Cumberland and Justin Jenifer, need to make a few jump shots to open things up.
SMU: Any evaluation of the Mustangs' season has to begin with injuries to their best players - Shake Milton (hand) and Jarrey Foster (torn ACL) in the middle of the season and season-long problems for Ben Emelogu (hand) and Akoy Agau (ankle). That crippled the Mustangs' hopes of reaching the NCAAs and decided their fate in the AAC Tournament when Agau couldn't play because of ankle injury. Emelogu and Agau won't be back and Milton could be headed to the NBA so a rebuild is in order.