New act: Mayfield plans to drop on-field antics in NFL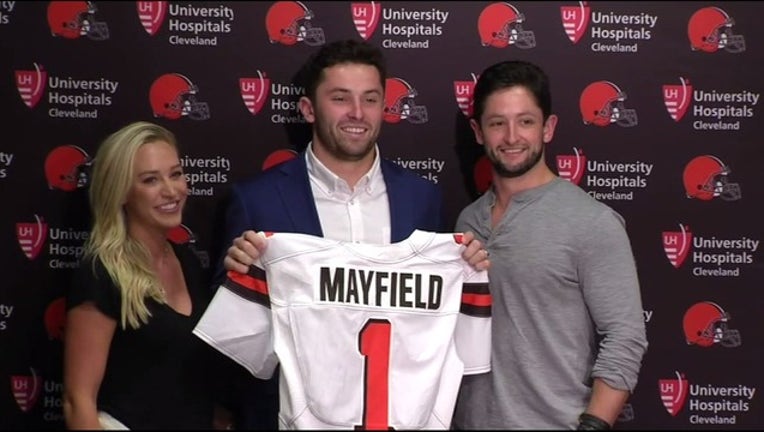 BEREA, Ohio (AP) - Baker Mayfield is leaving the college hijinks on campus.
Now that he's in the NFL, the brash quarterback who became a household name at Oklahoma as much for throwing touchdown passes as taunting opponents, intends to clean up his act.
"I'll be very competitive, but the other stuff, obviously it can't happen," Mayfield said. "I know that."
A day after the Cleveland Browns made Mayfield the surprise No. 1 overall pick in the NFL draft, the 23-year-old spent part of his introductory news conference discussing how he has matured and learned from past on-field incidents that made him more polarizing and could have soured teams from wanting to select him had they gotten the chance.
His Heisman Trophy-winning season was speckled with foolishness.
Before facing Texas Tech, the school where he began his college career, he entered the stadium in Lubbock wearing a T-shirt that had "TRAITOR" written on the front. He also famously celebrated a road win at Ohio State by taking a victory lap and attempting to plant a Oklahoma flag at midfield in the artificial turf.
But those paled in comparison to his actions during a game at Kansas. Reacting to the Jayhawks' captains for refusing to shake his hand before the game, Mayfield returned to the sideline following a TD drive, ripped off his helmet, grabbed his crotch and screamed expletives toward Kansas players.
Oklahoma punished him by not allowing him to start his final home game in Norman and coach Lincoln Riley stripped him of his captaincy against West Virginia.
Looking back, Mayfield said he regrets the "stuff" he did and that going forward he has to redirect his emotions.
"That was absolutely over the top," he said. "But there's a fine line. You need to be competitive, but a lot of that you can internalize and use that as motivation to drive you. You don't have to show it all the time. ... I can use that for behind the scenes when nobody's around, the film, the hours you put in."
Mayfield also learned from an arrest in February 2017, when a night out with friends in Fayetteville, Arkansas, turned into an arrest for public intoxication, disorderly conduct and fleeing.
The Browns did extensive vetting of the incident, so much so that general manager John Dorsey said he knew what Mayfield had ordered from a food truck before his run-in.
Dorsey felt comfortable enough with Mayfield to make him his signature pick, the fresh face of a franchise in perpetual rebuilding mode.
"He is very mature. He is very smart," Dorsey said. "We all learn from our mistakes. I have learned from my mistakes in the past, too. I am better today than I was a year ago. I have no problems with a young man being allowed to understand the mistakes he makes, and let's move forward."
Mayfield says he's done just that.
"I do not think I would be sitting right here unless I had made those strides," he said. "Without those mistakes, later on down the road I might have had slip ups, but now I can learn from them and be able to move forward."
___
More AP NFL: https://pro32.ap.org and https://twitter.com/AP_NFL