Moreland's game-ending HR gives Rangers 2-1 win over Royals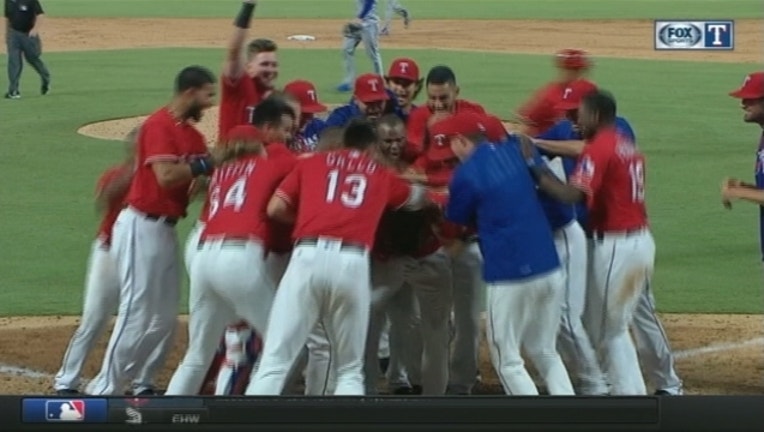 ARLINGTON, Texas (AP) — Mitch Moreland can hit home runs in bunches for the Texas Rangers. Those long balls are coming at a good time.
Moreland homered with two outs in the ninth inning Saturday night to give the AL West-leading Rangers a 2-1 victory over the Kansas City Royals. That came two nights after he homered twice in a 3-2 win in the series opener against the stumbling defending World Series champions.
"We know that Mitch is obviously capable of these types of runs, and boy it has been needed, and he has responded," manager Jeff Banister said. "With the power, with the at-bats, the pull power and then also the opposite-field power."
It was Moreland's second career game-ending homer — the other came more than five years ago. He has 17 homers this season, four in the last five games and six since the All-Star break for a lineup without slugger Prince Fielder after his season-ending neck surgery.
Brooks Pounders (1-1) had gotten the first two outs in the ninth before Moreland hit a 420-foot blast on 1-0 pitch, setting off a wild celebration at home plate after the Rangers won their third straight for their AL-high 61st win. They have a five-game division lead over the Houston Astros.
"I was trying to go down and away and got way too much of the plate," Pounders said.
"I'm just trying to go up there and get a good pitch. It was a guy I'd never seen before," Moreland said. "He was pretty quick with the first one, caught me off guard. I wanted to make sure I was ready and got a good pitch, kind of middle of the plate, and I was able to drive it."
Kansas City has lost seven of its last eight games and 32 of 51 overall since the start of June.
Matt Bush (4-2) pitched two scoreless innings with one strikeout. The hard-throwing right-hander had allowed a pair of two-run homers to Oakland in losing his last outing Wednesday night.
Both starters, Royals right-hander Ian Kennedy and Rangers lefty Martin Perez, allowed one run over seven innings. Both finished 0-3 in six July starts.
Perez struck out five and got 14 of his 21 outs on groundballs, including three more double plays. The left-hander has induced a majors-high 28 double plays this season. Perez allowed consecutive singles to start the game, and leadoff hitter Alcides Escobar eventually scored on Eric Hosmer's groundout for a 1-0 lead.
Kennedy struck out six without a walk.
Elvis Andrus led off the Texas third with a triple and scored when Bobby Wilson blooped a single over the drawn-in infield.
FOUL HIT
Moreland was credited with a single on a foul pop in the fifth that ricocheted off the glove of third baseman Cheslor Cuthbert, who made an awkward tumble in foul territory when the ball hit his glove. He had been positioned near shortstop with the Royals shifted for the left-handed batter.
The ball landed in fair territory, and was initially ruled foul before Rangers manager Jeff Banister questioned the call and umpires changed it after conferring about the non-reviewable play. Royals manager Ned Yost argued after Moreland was awarded first base, but the Rangers didn't score in the inning.
RANGERS INDUCTEE
Seven-time All-Star infielder Michael Young was inducted into the Texas Rangers Baseball Hall of Fame in a pregame ceremony. Young played for Texas from 2000-12 and is the franchise leader in games played (1,823), hits (2,230), runs (1,085), doubles (415) and triples (55). He was the 2005 AL batting champion and part of the Rangers' only two World Series appearances in 2010 and 2011.
TRAINER'S ROOM
Royals: Closer Wade Davis headed back to Kansas City on Saturday night for an MRI on his right arm. Davis, who last pitched Wednesday, was on the 15-day disabled list earlier this month with a strain in his forearm.
Rangers: OF Shin-Soo Choo is eligible to come off the disabled list Thursday after being out since July 20 with lower back inflammation. Choo said he's feeling normal and able to do everything.
UP NEXT
Royals: Dillon Gee (3-4) has started only once in his career against Texas, going six innings in a win for the New York Mets in 2011. Gee is from Cleburne, Texas, about 45 miles from Rangers Ballpark.
Rangers: Right-hander Lucas Harrell makes his Rangers debut, four days after being acquired from Atlanta along with reliever Dario Alvarez for a minor league infielder. Harrell was 2-2 with a 3.38 ERA in five starts for the Braves, including six scoreless innings in a win Tuesday at Minnesota. He previously pitched in the majors for the Chicago White Sox (2010-11) and Houston Astros (2011-14).