Milton scores 33, lifts SMU over No. 7 Wichita State 83-78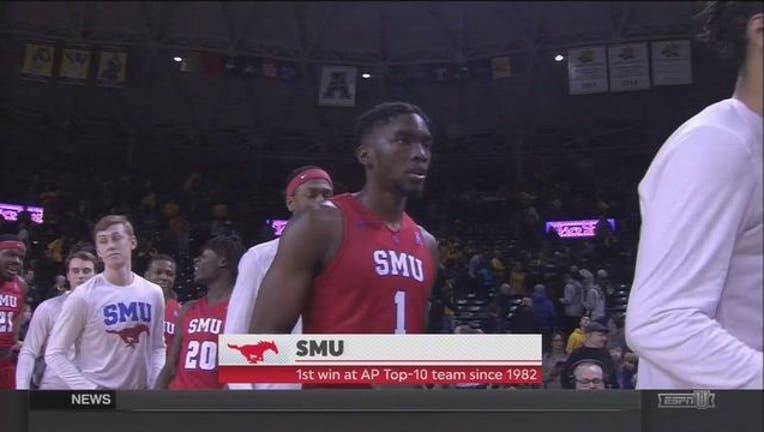 WICHITA, Kan. (AP) - SMU coach Tim Jankovich said his Mustangs would have to be "near perfect" to have a chance against No. 7 Wichita State.
Shake Milton gave Jankovich that and more.
"Might have been better than perfect," Jankovich said.
Milton scored a career-high 33 points on 11-of-14 shooting to lead the Mustangs to an 83-78 victory, snapping the Shockers' 27-game winning streak at Koch Arena on Wednesday night.
"I don't know how you play better than that," Jankovich said. "Shake controlled the game, not just scoring in bunches. He had control of everything."
SMU (13-6, 3-3 American Athletic Conference) had lost three straight, not winning since Dec. 31. It was the Mustangs' first road win against a top-10 team since Jan. 16, s1982 at No. 10 Houston.
Wichita State (15-3, 5-1) had won 67 of 68 at Koch Arena.
"I think we need to be desperate every game right now," said Milton, who was 5 of 6 from beyond the arc. "But knowing it would be an environment like this, that the fans would be crazy, was motivation."
Jahmal McMurray scored 16 points for the Mustangs, who shot 63.8 percent. Ethan Chargois had 12 points, and Ben Emelogu added 10.
Landry Shamet led the Shockers with 20 points and 10 assists, and Shaquille Morris scored 17. Darral Willis scored 12 points off the bench, and Conner Frankamp added 11.
Wichita State rallied after trailing 70-57 with 4:33 remaining to make it a one-possession game twice in the final minute.
Like much of the game, the Mustangs made shots when it mattered.
"In the end, they really had tremendous playmakers that made great plays," Shockers coach Gregg Marshall said. "They kept throwing dagger, dagger, dagger. We would get it down to four or three, and they would hit another big shot."
The Mustangs rarely use a zone defense, but Jankovich had them employ one the entire game. They also had personnel issues to overcome. Jarrey Foster, the Mustangs' second-leading scorer, did not return after getting injured less than six minutes into the game.
By the 10-minute mark of the second half, Emelogu and Chargois each had four fouls.
SMU found a way to hang on with some stellar individual plays. Each team had 30 field goals, but the Mustangs had just 10 assists - 14 fewer than Wichita State.
"I thought our execution was excellent," Jankovich said.
Marshall gave credit to a "better game plan."
"They tried to score early and, if not, they held the ball and ran clock," Marshall said. "And with the zone, they wanted to shorten the game. And it worked."
HOME STATE VIBES
McMurray had not scored in double figures in any of the three January games before reaching that mark by halftime Wednesday. He had 10 points on 4-of-5 shooting in the first half, hitting both of his 3-pointers.
McMurray is from Topeka and also attended Sunrise Christian Academy Prep School in Wichita before playing two seasons at South Florida.
BOUNCE, BOUNCE
In another way to shorten the game, the Mustangs would often let the ball bounce around after Wichita State made shots. That forced a Shocker or a referee to retrieve the ball as the clock ran.
"It felt like we lost two minutes just to that," Marshall said.
BIG PICTURE
SMU: The Mustangs could turn their season on this victory, and it will go down as a signature performance for Milton.
Wichita State: The Shockers suffered their first conference loss with a rare lackluster show from their defense.
UP NEXT
SMU: Hosts Tulane on Saturday.
Wichita State: Plays at Houston on Saturday.
___
More AP college basketball: http://collegebasketball.ap.org and http://www.twitter.com/AP_Top25