PGA Championship star Michael Block to play at the Colonial this weekend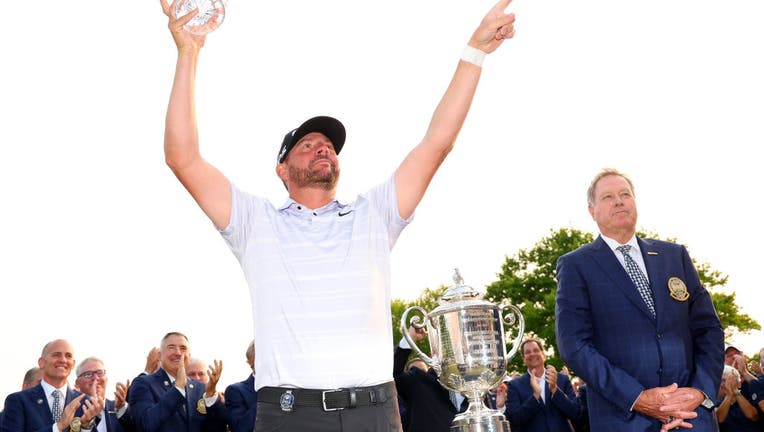 article
FORT WORTH, Texas - Golfer Michael Block captured the hearts of people across America at the PGA Championship, and now the so-called 'Block Party' is headed to Fort Worth.
Block, a 46-year-old club pro from Mission Viejo, California, had a life-changing weekend at the PGA. He was paired with golf superstar Rory McIlroy for the final round of the major, a long way from teaching lessons. 
Block ended up finishing in the top 15 at a major and even sinking a memorable hole-in-one during the tournament's final round.
Shortly after walking off the 18th green following the trophy presentation he shared with tournament champion Brooks Koepka, Block received a phone call informing him he's been invited to compete at the Colonial next week.
"Don't tell me what you are going to tell me, because if you tell me I am about to start crying right now man," said Block in a video posted by the PGA Championship.
Block received a sponsor exemption for the tournament. The video shows both he and his wife breaking down in tears.
"If you could talk to my boss real quick and tell him I won't be at work next week," Block joked.
At the PGA, Block earned a payday of close to $290,000, the previous largest pot he's ever won was $75,000.
Following a post-tournament television interview that included footage of a packed bar at his golf club holding a watch party, Block grew so emotional he slipped into an empty tent to catch his breath.
His eyes welled again midway through his news conference when he referred to the advice he received from his wife and the general manager at his club.
"They told me just to be me and not be a club pro, but be a tour pro, which I guess I proved this weekend with a 15th place finish in a major that ... " Block said before stopping in mid-sentence. "That makes me choke up even more thinking about it."
In the meantime, Block embraced the idea living out the dream of 29,000 PGA teaching professionals.
"I'm as normal as it gets; right? It's a thing for me where I'm not trying to be an inspiration," he said.
"I'm not trying to do anything, and that's kind of the big deal is I'm not trying to be anybody outside of myself," Block added. "Hopefully people gravitate toward it and appreciate it and be themselves and succeed in their goals as I have this week."
The Charles Schwab Challenge at the Colonial Country Club tees off this Thursday.
The Associated Press contributed to the story