Mavericks roll to 114-80 win over Grizzlies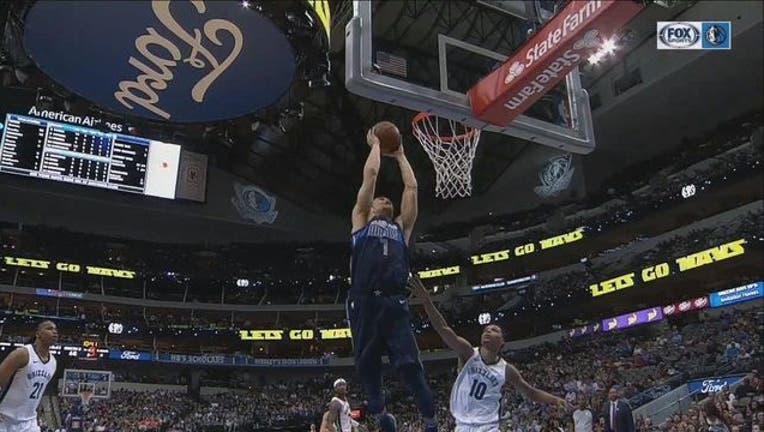 article
DALLAS (AP) - Harrison Barnes scored 25 points and the Dallas Mavericks beat Memphis 114-80 on Saturday night, extending the Grizzlies' losing streak to 17 games.
The Grizzlies (18-48), who have the longest losing streak in the NBA this season and the league's worst record, trailed by 26 points after shooting 26 percent in the first half and didn't lead after the 9:20 mark of the first quarter.
The only longer losing streaks in franchise history were skids of 23 and 19 games in the expansion season of 1995-96 in Vancouver. It's the longest losing streak in Memphis pro basketball history.
The Mavericks (21-45), also among the NBA's worst teams, allowed their fewest points in any half this season while building a 56-30 halftime lead on the way to their largest margin of victory this season. Barnes had 14 points in the first half, 10 of them on 11 free throws.
J.J. Barea scored 20 for Dallas, and Doug McDermott also had 20 for his highest total since coming to the Mavericks at the trading deadline.
Dillon Brooks led the Grizzlies with 17 points, and JaMychal Green had 14 points and 10 rebounds.
TIP-INS
Grizzlies: F Chandler Parsons still gets booed every time he touches the ball in Dallas. He took a maximum offer from the Grizzlies in the summer of 2016 coming off his second knee injury in as many seasons with the Mavericks, who hoped to sign him for less. Parsons scored nine points in 15 minutes. ... The road losing streak is at 14 games. Memphis hasn't won away from home in 2018.
Mavericks: F Dorian Finney-Smith played for the first time since Nov. 12, had seven points in 18 minutes. He missed 51 straight games with left knee quadriceps tendinitis and has missed 57 games overall. ... C Salah Mejri limped to the locker room grabbing his right leg in the first quarter after the leg got caught under Memphis C Deyonta Davis as both went to the floor. He didn't return, with the injury listed as a right hamstring strain.
TAKE IT EASY
Centers Marc Gasol of Memphis and Nerlens Noel of Dallas didn't play, with rest listed as the reason. The Mavericks also sat point guard Dennis Smith Jr. because of a left knee issue that also sidelined him the second and third games of his rookie season.
It's the same knee Smith had surgically repaired after a ligament tear in high school. He accelerated the rehab so he could play his only season at North Carolina State. Coach Rick Carlisle said he anticipated Smith would play Sunday against Houston.
GASOL'S ROLE
Gasol has expressed frustration at times this season, particularly when he hasn't played in the fourth quarter. When it happened recently at Chicago, he left without talking to reporters.
"Having not experienced something like this before, it's difficult," coach J.B. Bickerstaff said. "He's beginning to understand that he is a mentor to these younger guys now and he's helping them. He's teaching them. He's leading them. He's trying to show them how to play the game the right way."
UP NEXT
Grizzlies: Open three-game homestand Monday against Milwaukee.
Mavericks: Finish four-game homestand and back-to-back against Houston on Sunday.
___
More AP NBA: https://apnews.com/tag/NBAbasketball