Late goal costs Stars, fall to Flames 5-4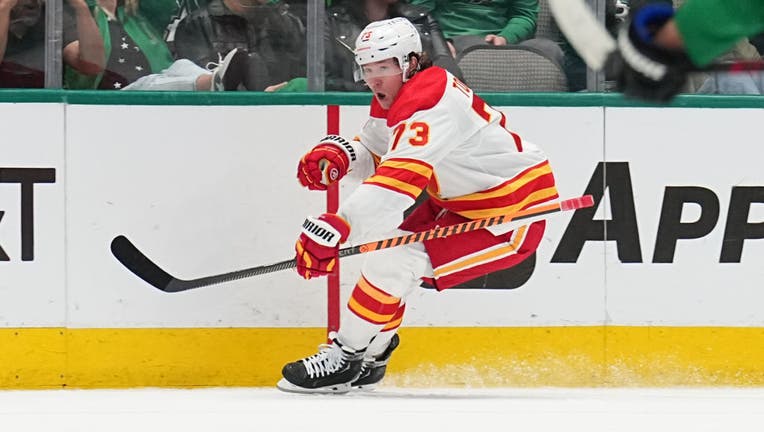 article
DALLAS (AP) - Calgary Flames forward Tyler Toffoli took a peek at the clock as he was charging down the middle of the ice toward the Dallas net.
Toffoli scored on a breakaway with 6.2 seconds left as the Flames beat Central Division-leading Dallas 5-4 on Monday night for their first win in six games after giving up a two-goal lead in the third period. His 26th goal was a wrister past Jake Oettinger after getting the puck from Jonathan Huberdeau.
Nick Ritchie scored a goal in his debut for Calgary after being part of the NHL's first brother-for-brother trade, though his boarding penalty with just under three minutes left gave Dallas a late power play on which they failed to capitalize.
Report: Dallas Cowboys place franchise tag on Tony Pollard
"I saw that I had enough time to kind of do whatever I wanted, and obviously made the right choice," Toffoli said.
"Some back and forth there, having a lead and giving it up, but got it done at the end," Ritchie said. "I think we deserved to win that one."
Nikita Zadorov, Elias Lindholm and Rasmus Andersson also scored goals for the wildcard-chasing Flames, who were 0-3-2 in their previous five games.
Jason Robertson scored his 38th goal for Dallas, and Roope Hintz got his 30th on a short-hander. Max Domi got his first goal for the Stars since getting traded from the Blackhawks right after Dallas had played in Chicago last Thursday night, tying the game at 2-2 in the second period.
"Tonight definitely stung," Stars center Tyler Seguin said. "They're a good hockey team, they played well. And, you know, they always play well against us, and had our number as of late."
The Flames won 6-5 in Dallas on Jan. 14, their first meeting since Calgary's overtime goal in Game 7 to beat the Stars in the first round of last season's Western Conference playoffs.
Luka Doncic had a message for Devin Booker following loss to Suns
Hintz scored his short-hander midway through the third period before captain Jamie Benn's 26th goal with just under six minutes left tied the game at 4.
"It's disappointing, especially crawling back in the game. I didn't love our game all night," Stars coach Peter DeBoer said. "We played in spurts, but not for long enough. We were fortunate to be tied at that point, but credit to our group. We didn't pack it in, and we battled back. It's a tough way to lose and to give that up. It's probably a symptom of our whole game tonight — awareness and execution was off a little bit."
Huberdeau also assisted on Ritchie's goal less than four minutes into the game. Oettinger had stopped his shot but was unable to gather in the puck, which was just beyond his skate in the crease, when Ritchie swiped it in for a 1-0 lead.
"That felt good obviously," Ritchie said. "Getting a goal early helped the rest of the game."
Calgary acquired the 27-year-old Ritchie just before the trade deadline Friday from Arizona for his old brother, Brett. The younger Ritchie had scored nine goals in 58 games for the Coyotes. Brett Richie, who turns 30 on July 1, is about 2 1/2 years older.
Oettinger had 32 saves. Jacob Markstrom had 29 for the Flames, but gave up the short-hander to Hintz midway through the third period that got Dallas within 4-3.