Jerry Jones wants a QB controversy in Dallas
DALLAS - Cowboys owner Jerry Jones is a promoter and on Thursday, promoter Jerry was on full display when he welcomed a quarterback controversy in Dallas.
Jones didn't have a scheduled media session, but he held court with reporters anyway, creating a sizzling new headline: "Jones thinks Cooper Rush can take Dak Prescott's job".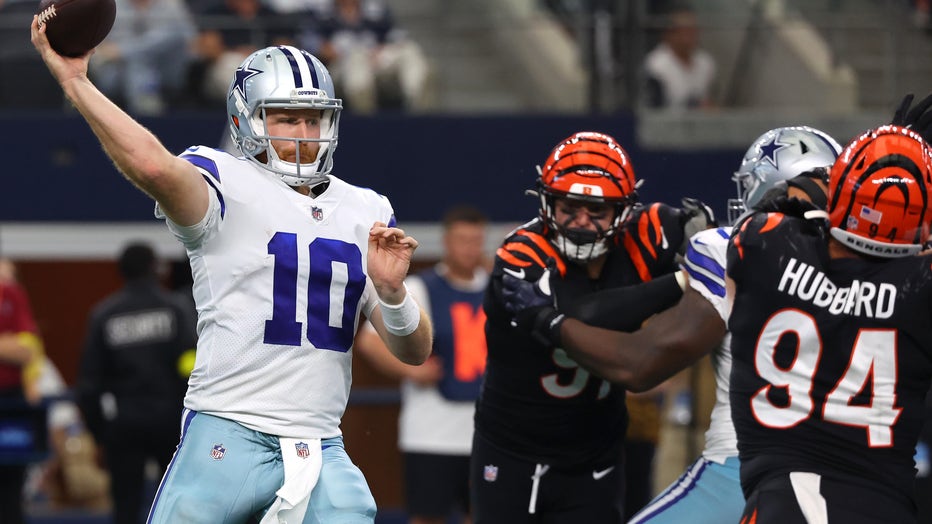 ARLINGTON, TEXAS - SEPTEMBER 18: Cooper Rush #10 of the Dallas Cowboys passes the ball against the Cincinnati Bengals during the second half at AT&T Stadium on September 18, 2022 in Arlington, Texas. (Photo by Richard Rodriguez/Getty Images)
How did Jerry get there?
It started with a question I asked that had nothing to do with the quarterbacks at all.
"This franchise hasn't won back to back division titles since the 90s, how much do you think about that and how important is it to get off to a good start in the division?"
"The idea of haven't won since is not as big to me of just how can we win this year and how can we win now," Jones replied.
After about a two-minute monologue, Jerry made a pit stop fantasizing about the potential return of the team's injured players, "Here comes Dak, here comes Tyron Smith, McGovern. Here comes the team."
Then he pivoted to the idea of a quarterback controversy.
"Wouldn't it be something if you had a dilemma as to which way you go. You do that if he gets 10 wins. Same thing that happened with Prescott. I think like that," Jones said.
A reporter then asked, "So you want that controversy?'
"Of course I would," Jones replied. "Of course – that means we'd won – if he comes in here and plays as well as Prescott played? Rush? Played that well… I'd walk to New York to get that."
For that to happen Cooper Rush would need an opportunity like Dak had back in 2016.
Prescott got to start the first 9 games of the season, going 8-1, before Tony Romo conceded his starting job.
On Tuesday, Jerry indicated this Giants game could be the last one Dak has to miss.
Dak wasn't gripping any footballs in front of the cameras Thursday, but wasn't empty-handed either.
Based on what Jerry is saying, the main thing that could keep Dak out for an extended amount of time, would be if he struggles with his grip.
READ MORE: Dak Prescott could return as Cowboys quarterback in 2 weeks, Jerry Jones says
Even if that opportunity did present itself, Cooper Rush, the same backup QB that Jerry Jones cut loose for Andy Dalton two years ago, would have to play well enough to steal starting quarterback duties from his $160 million teammate.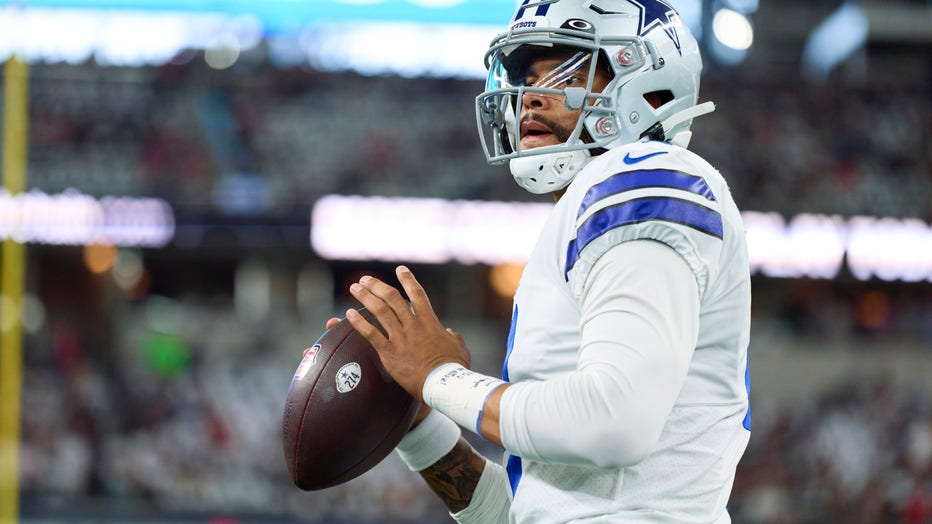 ARLINGTON, TX - SEPTEMBER 11: Dak Prescott #4 of the Dallas Cowboys warms up before kickoff against the Tampa Bay Buccaneers at AT&T Stadium on September 11, 2022 in Arlington, TX. (Photo by Cooper Neill/Getty Images)
"Do you think he can do that?" I asked.
"Well, I don't know that, but you can't find on record when I said Dak Prescott could do it, but he did it."
Jerry starting singing a different tune a bit later in his answer.
"Do I think it's possible for Rush to come in here and play at a level to win games the way Prescott did when he took over for Romo? Yes I do."
Jerry's headline stuck after the comments, but Cowboys running back Ezekiel Elliott knows what Jerry is doing.
"See there you go. That's a classic example. Yeah he wants y'all to click and listen to him to. It's all marketing man, it's all marketing," Elliott said.
Cooper Rush was asked after last Sunday's win if he thinks he can be a starting quarterback in the NFL, and he side-stepped the question.
Now, Rush will have to do another juke job, answering for Jerry's comments when he talks with reporters, most likely on Friday.
Rush and the Cowboys take on his former team, the Giants, on Monday night.