Injured Oklahoma back Rodney Anderson to enter NFL draft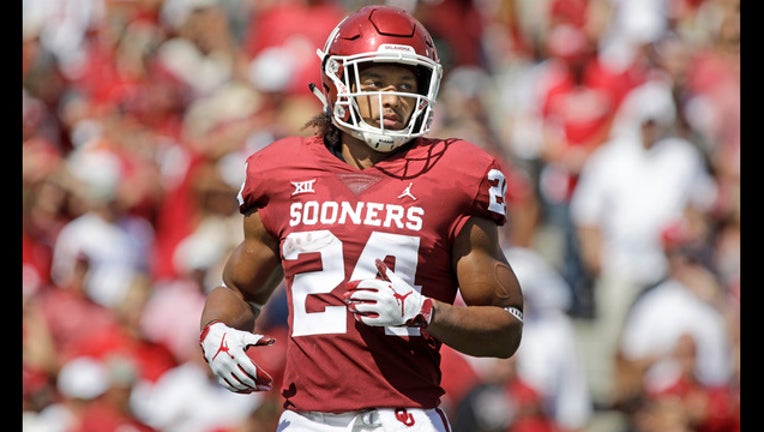 article
NORMAN, Okla (AP) - Injured Oklahoma running back Rodney Anderson will forego his senior season and enter the NFL draft.
Anderson suffered a season-ending knee injury in the second game of this season against UCLA. He made the announcement that he would not return to the Sooners on Thursday on social media.
"With my degree already in hand and after much discussion with my family, I have chosen to set my sights on the NFL and focus on preparing for the 2019 NFL Draft," he said in the statement. "This was not an easy decision, but I believe I am ready for this next step."
Anderson's star rose quickly. He didn't start until the middle of last season, but he eventually ran for 1,161 yards and 13 touchdowns and caught five touchdown passes to help the Sooners reach the College Football Playoff. He ran for 201 yards in the Rose Bowl against Georgia. In his best game last season, he had 290 yards and four touchdowns from scrimmage in a regular-season win over TCU.
Starting with last year's Oct. 21 game at Kansas State, he led all Power Five players the rest of the season with 1,333 yards from scrimmage and 16 total touchdowns in eight games.
Anderson opened this season with 100 yards and two touchdowns on just five carries against Florida Atlantic. He ran for 19 yards and a touchdown against UCLA before getting hurt on the last play of the first quarter.
The knee injury was the third season-ending injury of his career. He suffered a broken leg in the second game of the 2015 season, and a neck injury before the 2016 season even started sidelined him for the year.
With that history in mind, Anderson chose not to risk it again at the college level again.
"I thoroughly enjoyed these past four years in Norman and am proud to have worn the crimson and cream," he said. "The bonds I formed with my teammates, coaches and friends are special to me and being selected captain this season has truly been an honor."
___
Follow Cliff Brunt on Twitter: www.twitter.com/CliffBruntAP
___
More AP college football: https://apnews.com/tag/Collegefootball and https://twitter.com/AP_Top25