Heiskanen scores 2 goals, Stars rally to beat Senators 6-4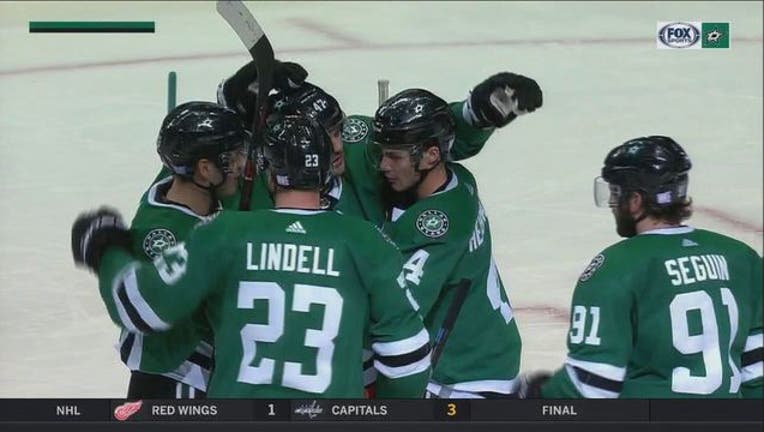 article
DALLAS (AP) - Miro Heiskanen and the Dallas Stars' new defense stepped up - on offense - Friday night.
Heiskanen, a rookie, had his first two-goal game, and the Stars, behind four goals from defensemen, rallied to beat the Ottawa Senators 6-4.
"I think it was the most shots that got through from our defense all season," Stars coach Jim Montgomery said. "The four goals were important."
With four defensemen injured, the 19-year-old Heiskanen has become one of the more experienced Dallas blueliners. He scored from above the left faceoff circle in the second period and from the right point in the third.
Montgomery was most impressed by Heiskanen's first goal.
"What a great release! To get a shot on a knuckle puck without settling it. It's on his stick and it's off his stick. The goalie doesn't have time to move," he said.
Ottawa goalie Craig Anderson had to do plenty of moving. The Stars had 54 shots on goal, one off the record for their 24 seasons in Dallas. Anderson finished with 48 saves, one away from his season high.
"It was pretty fun," Anderson said. "A lot of action. Got to play the puck a lot. They're the kind of team to throw everything at the net."
Taylor Fedun, in his first game for the Stars, scored the goal that put them ahead to stay 3-2. Gavin Bayreuther scored his first goal in his fifth NHL game into an empty net after Ottawa came back from three goals down to trail just 5-4.
Heiskanen just missed a shot for an empty-net goal and a hat trick.
"It was amazing to witness how everybody on the bench was pulling for him to get the hat trick," Montgomery said.
Forwards Jamie Benn and Blake Comeau also scored for Dallas.
Ryan Dzingel, Brady Tkachuk, Maxime Lajoie and Zach Smith scored for the Senators.
Ottawa's losing streak grew to a season-high three games. The Senators are 2-7-1 on the road.
"We can score goals," coach Guy Boucher said, "but we can't prevent them from scoring against us. On the road it's a lot tougher, and we're paying for it.
The Senators twice held one-goal leads. Dallas came back with four in a row late in the second period and early in the third, starting with rookie Heiskanen's first that tied the game at 12:45 of the second period.
Fedun scored the tiebreaking goal at 18:48 of the second. Heiskanen and Comeau added third-period goals for a 5-2 lead.
After Lajoie and Smith rallied Ottawa within a goal before Bayreuther scored with 2:10 to play.
Dzingel and Tkachuk had given Ottawa its early leads.
Anton Khudobin stopped 29 shots for the Stars.
Ottawa's Bobby Ryan had three assists, and Thomas Chabot and Matt Duchene added two apiece.
For Dallas, Mattias Janmark, Devin Shore and Alexander Radulov each had two assists.
Teamwork resulted in the game's first goal for Ottawa 3:05 into the game. Chabot dug the puck out of the left corner and Ryan took it behind the goal line and passed out to Dzingel in front, who scored his 10th goal of the season on a wrist shot.
Dallas tied the game 1-1 at 10:22. Tyler Seguin sent the puck across from the right corner, and Benn deflected it into the left side of the net before Anderson could get back into position.
Ottawa took its last lead on Tkachuk's goal on its first power play at 10:02 of the second period.
NOTES: Ottawa D Ben Harpur returned after missing two months because of a back injury. ... Senators RW Mark Stone left in the third period after being hit in the face by a shot. ... Stars C Devin Shore (lower-body injury) started the game after missing four games on injured reserve. G Ben Bishop (lower body) went on IR. ... D Julius Honka (illness) was inactive for the second straight game. ... D Taylor Fedun was recalled from Texas of the AHL to play his first game for Dallas since being traded from Buffalo on Nov. 10. . The North Stars/Stars franchise record for shots is 68 in Minnesota's 4-3 loss to the Kings on March 24, 1981.
UP NEXT
Senators: At the Rangers on Monday to play the third of four straight road games.
Stars: At Colorado on Saturday to begin a four-game trip during a stretch with seven of eight games on the road.
___
More AP NHL: https://apnews.com/tag/NHL and https://twitter.com/AP_Sports