Ferrell, Nowitzki lead Mavericks to 118-107 win over Nuggets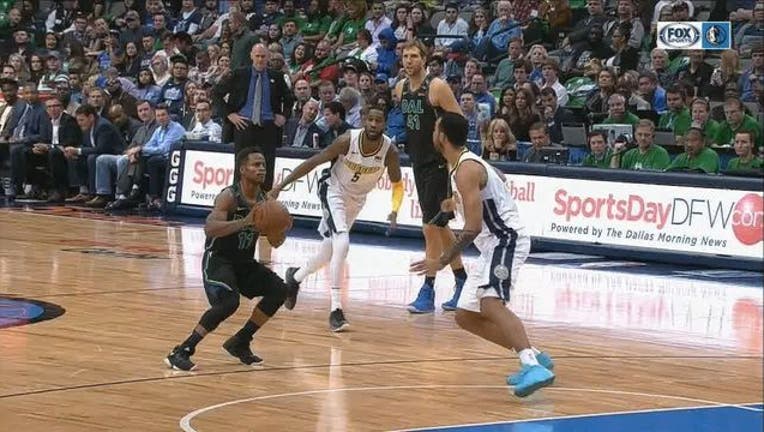 DALLAS (AP) - Yogi Ferrell rode hot 3-point shooting to a season-high 24 points, Dirk Nowitzki also was strong from long range to score 17 and the Dallas Mavericks beat the Denver Nuggets 118-107 on Tuesday night.
Ferrell and Nowitzki both made their first five 3s, and Ferrell finished 9 of 11 from the field to help one of the NBA's worst teams hand the Nuggets a loss they didn't need in the tight Western Conference playoff race.
A second-year guard who came to Dallas on a 10-day contract last season, Ferrell finished 6 of 7 from long range. The 39-year-old Nowitzki, in his 20th season, all with the Mavericks, was 5 of 7.
Rookie Dennis Smith Jr. had 18 points and a career-high 11 assists as the Mavericks won for just the second time in nine games.
Wilson Chandler scored 21 points for the Nuggets, who couldn't follow up a win at Cleveland with a chance to sweep a three-game road trip. Dallas split the season series with Denver, with both teams winning both home games.
The Mavericks shot 56 percent from 3 (15 of 27) while Denver was at 31 percent (11 of 36) after making 19 of 35 in the win over the Cavaliers.
Nerlens Noel had a season-high 15 rebounds for Dallas, his only other game in double digits since the opener. He missed 42 games after surgery for a torn ligament in his left thumb.
TIP-INS
Nuggets: Nikola Jokic, who had 29 points and 18 rebounds in one of the wins over Dallas in Denver, had four points and nine boards. He was 0 of 4 from 3, including a couple of forced shots from behind the arc in the third quarter. ... Will Barton had 16 points, eight rebounds and seven assists.
Mavericks: G Wesley Matthews missed his second straight game with a left hip injury. ... Doug McDermott and Harrison Barnes had 15 points apiece, and Dwight Powell scored 14.
HARRIS HOMECOMING
Devin Harris played the Mavericks for the first time since a trade deadline deal that sent him to the Nuggets. After waving to the crowd following a video tribute late in the first quarter, Harris entered the game for the first time. He reached 10,000 points for his career in the first half and finished with seven points.
The 14th-year guard started his career with the Mavericks, who traded for him in the fifth spot in the 2004 draft. The Mavs traded him to the Nets to re-acquire Jason Kidd in 2008, and he was sent to Utah in 2011. Harris spent one year in Atlanta before returning to Dallas in 2013.
JERSEY SPONSOR
The Mavericks became the 21st team with a jersey sponsor when they announced a three-year deal with Dallas-based online marketplace 5miles. The LA Clippers were the 20th team with an announcement earlier in the day on a deal with the online dating site bumble.
UP NEXT
Nuggets: Host the Cavaliers on Wednesday. The Nuggets play LeBron James and company after winning 126-117 on Saturday in Cleveland.
Mavericks: Three days off before another home game against Memphis on Saturday.
___
More AP NBA: https://apnews.com/tag/NBAbasketball