Ezekiel Elliott appeal gets messy with statements from NFL, player's union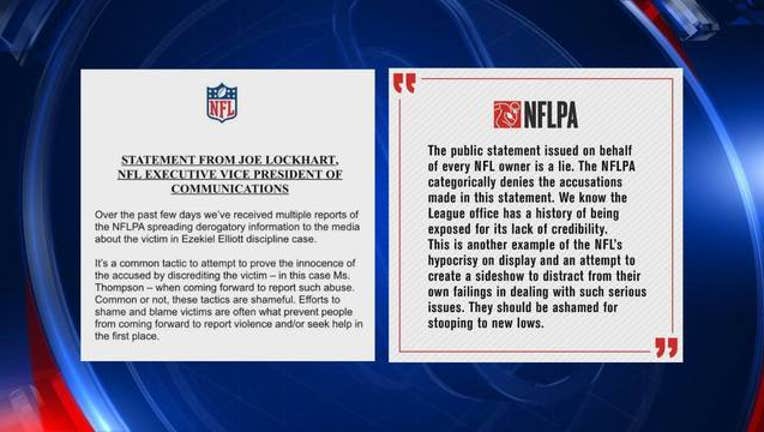 DALLAS - The NFL Players Association says it has evidence Ezekiel Elliott's accuser tried to set him up. It's appealing Elliott's six-game suspension.
The NFL responded in a statement saying the union is spreading derogatory information to the media about the victim in the case.
New reports question the credibility of Elliott's accuser Tiffany Thompson. Yahoo Sports reports that text messages exist showing she considered blackmailing Elliott with sex tapes.
Last week the NFL announced a six-game suspension for Elliott following a 13-month investigation that found he physically abused her.
Elliott's legal team now says she tried to set him up and threatened his career.
Coach Urban Meyer talked to ESPN about his former player.
"I worry about the fact that, you know, I don't know all the stories about the accusations but I'm always warning our team about that. When you become that kind of person you have to really be cautious who you're around and who you're with. And I just worry about him," Meyer said.
The NFL was quick to respond to the player's association saying, "It's a common tactic to attempt to prove the innocence of the accused by discrediting the victim."
"Common or not, these tactics are shameful. Efforts to shame and blame victims are often what prevent people from coming forward to report violence and seek help in the first place," the statement continues.
Everyone seems to have an opinion on social media.
"Only an evil organization would silence facts from both witnesses. Thompson's character is essential and why no charges were filed," Reed Robertson tweeted.
"Stop victim shaming. Choices made put him in questionable situations. Here's a novel idea. Own the fact that actions created it," added KC Magolan.
"This statement makes it look like they absolutely have an agenda here, not that they want a fair process," RangerFan_WA said on Twitter.
The NFL Players Association also fired back after reading the league's statement, calling it a lie.
The union said in part that the "NFL is just attempting to distract from its own failings in dealings with these issues."