Dallas Renegades lose opener 15-9 to Battlehawks
ARLINGTON, Texas - The XFL kicked off this weekend and the Dallas Renegades' season got off to a cloudy start. But the threat of rain didn't stop fans from turning out for the team's debut game at the former home of the Rangers.
Some experts picked the Renegades to win the XFL championship. The team didn't quite rise to that level in Sunday's game at the redesigned Globe Life Park in Arlington.
Without their starting quarterback Landry Jones, the team struggled against the St. Louis Battlehawks. They failed to score a touchdown in front of a crowd of 17,000 and lost the game 15-9.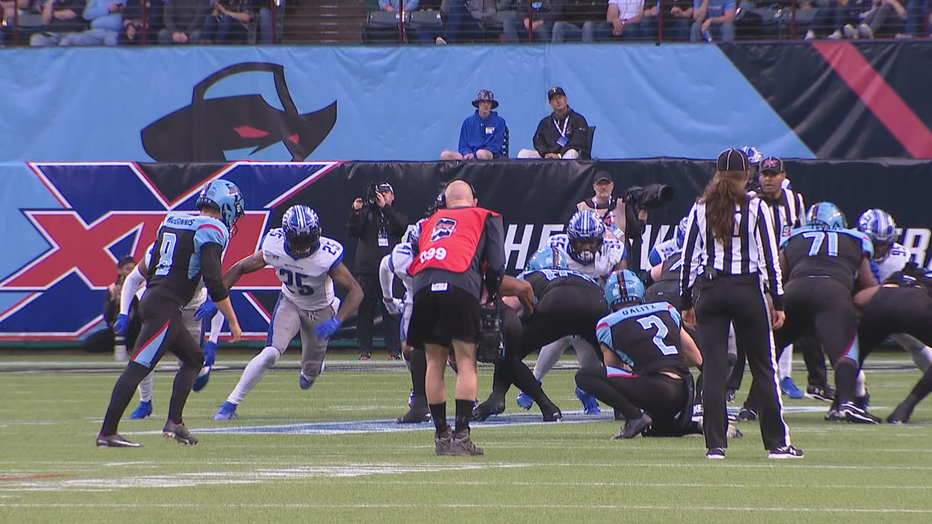 Many fans are excited about the league so far, especially because of the faster-paced 25-second play clock, transparency of the referees and the chance to go for an extra 1, 2 or 3 points after a touchdown rather than kicked extra points.
"You know I really had mixed emotions about this. But Dallas is such a rich state for football that this doesn't surprise me, let me put it that way. This is really exciting," said Pat Nelson, the father of Renegades quarterback Philip Nelson.
"It's better than I thought it would be so far, you know what I'm saying. More people here, more of a vibe, fans wearing gear and whatnot," said Heith Cofer, a Renegades fan.
The crowd cheered when NFL on FOX analyst and Hall of Famer Troy Aikman was shown on the big screen. He thinks the league is off to a good start.
"I love it. I love it. I think it's great. I think a number of people have a craving for football once it ends and I know the AAF didn't go the way everybody hoped it would," he said. "The XFL has a good product. It's been awesome to support the fans that have come out here. It's been great."
Aikman was nearly hit by play that ended out of bounds while doing the sideline interview.
The Renegades will play their first road game Sunday against the Los Angeles Wildcats, who also lost their first game.
The next home game is on March 1 against the Houston Roughnecks.