Can the Dallas Mavericks land the No. 1 pick in the NBA Draft Lottery?
DALLAS - The NBA Draft Lottery is Tuesday night and the Dallas Mavericks have a shot and landing one of the top picks in the draft, and also a shot at losing the pick all together.
The Mavs sat some of their best players over the last two games of the season to improve their draft odds and had to pay a hefty fine for it.
Tuesday night we will see if the move paid off.
Victor Wembanyama from France is considering one of the best draft prospects in years and is a slam dunk for the first overall pick.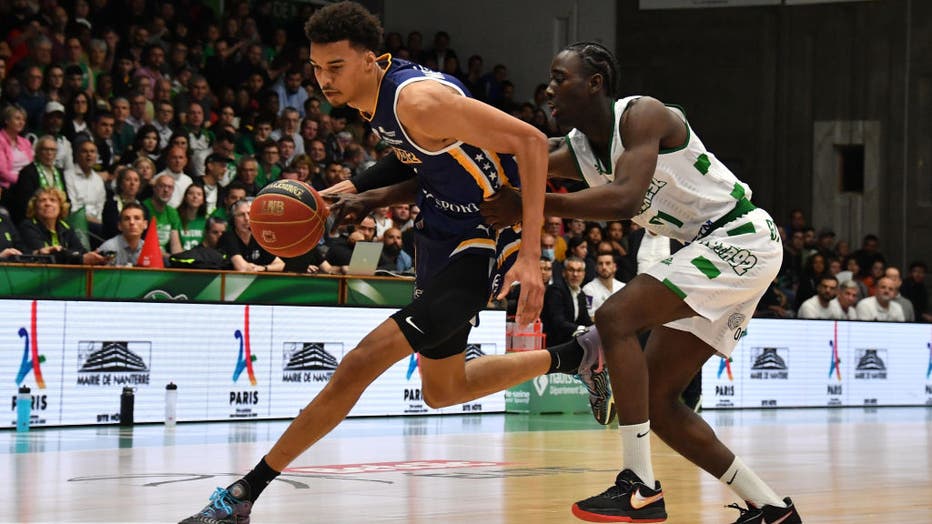 PARIS, FRANCE - MAY 09: Victor Wembanyama of Metropolitans 92 in action during the LNB Pro A Betclic Elite basketball match between Nanterre 92 and Metropolitans 92 at Palais des Sports Maurice Thorez on 09 May 2023, in Nanterre near Paris, France. (
Scouts are also very high on G League Ignite's Scoot Henderson and Brandon Miller from Arkansas.
The NBA Draft itself is June 22, but on Tuesday night the NBA will pick the ping pong balls to determine the draft order.
Dallas Mavericks to hold preseason games in Abu Dhabi
The Mavericks have the 10th best odds, but could move up or even fall back a few spots.
If luck isn't on the Mavs' side, and they are outside the top ten, the pick goes to the New York Knick as the final piece of the trade that brought Kristaps Porzingis to town.
The Mavericks can also move up to one of the top 4 picks in the draft, but the chances are slim. In the history of the Mavericks franchise, Dallas has never moved up in the NBA Draft Lottery.
Under NBA rules, the Mavs cannot move up to get the 5-9 picks.
Dallas' most likely scenario (65.9%) is that they keep the 10th pick.
Mavericks GM Nico Harrison will represent the team at Tuesday's lottery drawing.
Dallas Mavericks NBA Lottery Odds
1st Pick: 3%
2nd Pick: 3.3%
3rd Pick: 3.6%
4th Pick: 4%
5th Pick: 0%
6th Pick: 0%
7th Pick: 0%
8th Pick: 0%
9th Pick: 0%
10th Pick: 65.9%
11th Pick (goes to Knicks): 19%
12th Pick (goes to Knicks): 1.2%
13th Pick (goes to Knicks): <1%
14th Pick (goes to Knicks): <1%
Odds at First Overall Pick By Team
Detroit Pistons: 14%
Houston Rockets: 14%
San Antonio Spurs: 14%
Charlotte Hornets: 12.5%
Portland Trail Blazers: 10.5%
Orlando Magic: 9%
Indiana Pacers: 6.8%
Washington Wizards: 6.7%
Utah Jazz: 4.5%
Dallas Mavericks: 3%
Chicago Bulls: 1.8%
Oklahoma City Thunder: 1.7%
Toronto Raptors: 1%
New Orleans Pelicans: 0.5%