Caitlin Clark, Dawn Staley win Naismith Awards before NCAA Women's Final Four
DALLAS - Caitlin Clark winning this year's Naismith Award was inevitable.
She's been the biggest star of this March Madness women's or men's game.
The crazy thing is… she's only a junior.
But Clark's resume has been ridiculous.
Most recently, she scored a 40-point triple-double in the Elite Eight.
There had never been even a 3—point triple-double by a woman's player in the NCAA tournament before.
North Texas reaches NIT finals, shuts down Wisconsin 56-54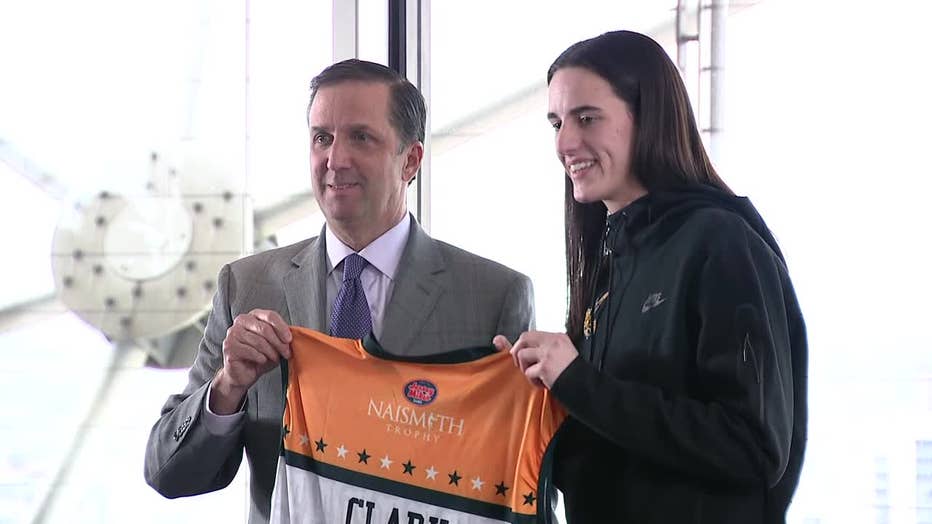 Caitlin Clark takes home this year's Naismith Award.
Clark accounted for 70 of Iowa's 97 points in that win.
And during the regular season, she led the nation in 12 straight statistics.
Dawn Staley will be trying to end Clark's historic season in the Final Four on Friday.
Staley took home the Naismith Coach of the Year award after leading South Carolina to an undefeated Final Four appearance.
Win tickets to the Taylor Swift concert by volunteering during the NCAA Women's Final Four
With the win, Staley makes history as the first women's coach to claim the Naismith in three of four years. 
Not even UConn's Geno Auriemma has done that.
If Staley's Lady Gamecocks can get past Clark and then win it all on Sunday, South Carolina would have the first perfect season in the women's game since UConn in 2016.