Add Bryant to list of Cowboys happy over return of Elliott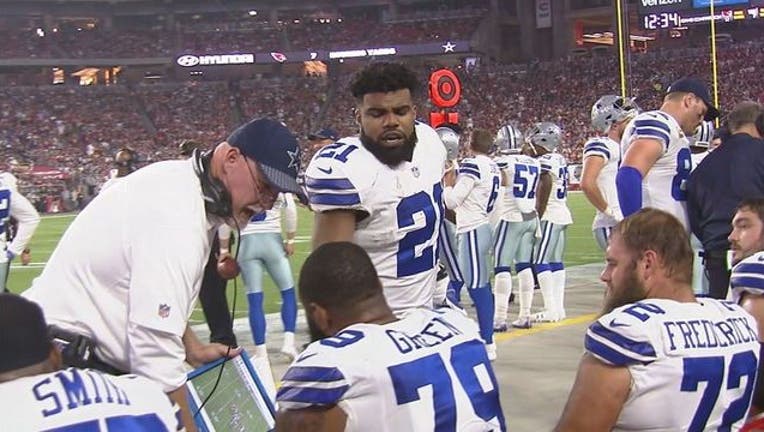 article
FRISCO, Texas (AP) - Dallas receiver Dez Bryant doesn't remember the last time he was double-teamed as much as he was in the Cowboys' paper-thin win over the Oakland Raiders.
Throw that near the top of the list of reasons the Cowboys are happy running back Ezekiel Elliott's six-game suspension over domestic violence allegations has ended.
"He's got some abilities that not many people have," said quarterback Dak Prescott, who was NFL Offensive Rookie of the Year last season while his fellow first-year star was the league's leading rusher. "We're going to believe in him when he comes back, giving him the ball and him making people miss and getting those dirty 8-yard runs and eventually it turns into 15 yards, and you know the rest of it. Defenses can't play us the same."
Bryant agrees, pointing to the 40-yard catch he made in single coverage three plays after referee Gene Steratore used a folded index card between the chain and the ball to confirm what he said he had already seen as a Dallas first down on Prescott's fourth-and-1 sneak.
Before that catch to set up the tiebreaking field goal in the final two minutes of a 20-17 Dallas win, the Raiders held Bryant to one 19-yard grab.
"Even at halftime I asked coach Jack Del Rio, I said, 'Hey man, what's up with all this doubling? Let's play some football,'" Bryant said. "Just joking. Nothing too serious. They gave us one-on-one one time and they paid for it."
The Cowboys (8-6) have won three straight games to keep their wild-card hopes alive after losing the first three without Elliott. His return should help Prescott as much as anyone. A year after setting an NFL rookie record for passer rating, Prescott had three of the four worst ratings of his career in the six games without Elliott.
While Alfred Morris did an adequate job filling in for Elliott, Prescott's difficulties making plays downfield could be traced to defenses not having quite the same respect for the Dallas running game. The Cowboys face Seattle (8-6) at home Sunday in another game with playoff implications.
"Any time you add a player of Zeke's caliber back in the lineup, he's going to help you," coach Jason Garrett said. "He's going to take some pressure off everybody else. He's just that kind of player and he's been that kind of player for us."
Cowboys owner Jerry Jones said he was planning to meet with Elliott on Monday, the first day the running back was allowed back into team headquarters. Garrett said he met with Elliott, as did running backs coach Gary Brown. His first activity will be a team run Tuesday.
While Jones denied a connection, the suspension was followed by friction between Jones and Commissioner Roger Goodell over a contract extension for Goodell. The deal was eventually completed, with Jones and Goodell trying to appear as if all was forgiven during NFL meetings in the Dallas area last week.
"We're just glad to have him back," Jones said of Elliott. "This has been a rough year for Zeke, and he'll be the first to say that he knows his fans have had it up and down with him here. And now they're back together again, and maybe we'll get a chance to really do something special. Maybe we can get in the playoffs."
The Cowboys still need help to get there.
___
More AP NFL: http://www.pro32.ap.org and http://www.twitter.com/AP_NFL