VIDEO: 10-year-old in stolen car swerving on I-75 pulled over by MSP
SAGINAW COUNTY, Mich. (FOX 2) - Michigan State Police have released dashcam video of a stolen car that was driven by a 10-year-old on I-75 last weekend.
Video showed the troopers trying to pull over the 2017 Buick Encore that was reported stolen from a home on Hess Avenue in Saginaw County's Buena Vista on Saturday.
In the video, the compact SUV swerves across multiple lanes of traffic with a trooper keeping its distance behind the car. It eventually pulled onto a shoulder, hit the guard rail, and then came to an abrupt halt. 
Read more stories from around Michigan here.
It came to a stop because it had been disabled by OnStar. Saginaw County Central Dispatch received 911 callers about a child on the freeway, around the same time that OnStar had called them to report the stolen vehicle.
Troopers spotted the vehicle near the Birch Run exit and tried to stop it, but the driver fled. OnStar eventually disabled the vehicle, police said, and it stopped after bumping into the guardrail. The child ran from the vehicle but was arrested nearby. 
No one was hurt.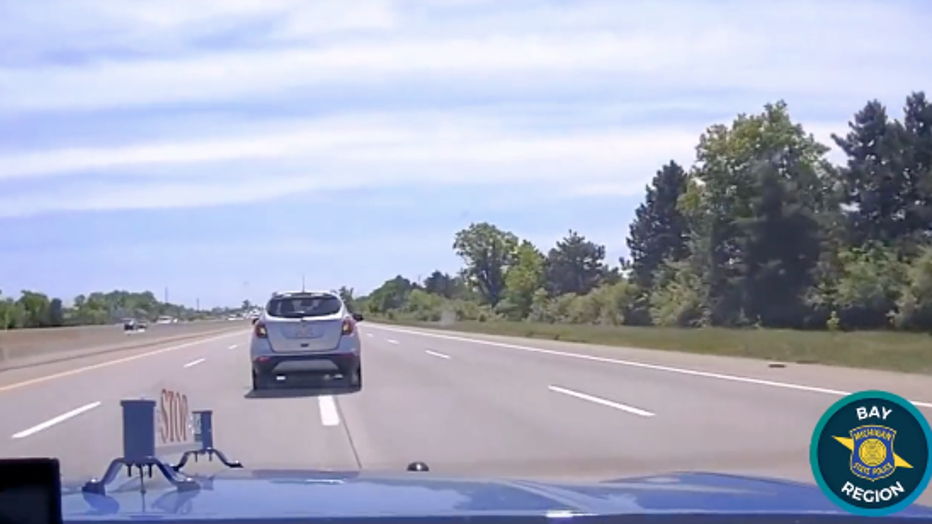 MSP pulled over a stolen SUV driven by a 10-year-old boy on I-75 last weekend. Photo: Michigan State Police