UNT assistant basketball coach dies in early morning crash in Wise County
DECATUR, Texas - The University of North Texas athletic community is mourning the loss of its men's basketball team's assistant coach after 47-year-old Nelson Haggerty died in a single-vehicle crash in Wise County.
Haggerty had been coaching for 18 years, making his way to UNT, where he helped bring the basketball team its first NCAA Tournament win.
Now the team in in mourning. 
Friday was a somber day on UNT's campus as one of their own is now dearly missed.
"It's one of those texts that you can't possibly be prepared for," UNT basketball play-by-play broadcaster and friend, Dave Barnett, said.
The single-vehicle wreck happened at about 2:30 a.m., on US Highway 380, just over two miles away from Decatur.
Investigators found that a 2008 Nissan Armada, driven by Haggerty, was eastbound on 380, when the vehicle left the roadway and hit a culvert.
The vehicle then overturned and went through a fence.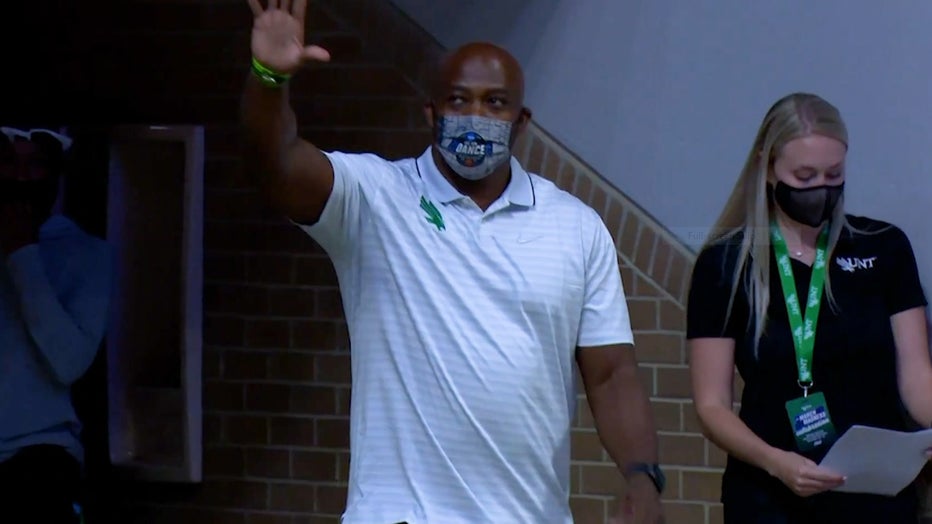 Courtesy: University of North Texas
Barnett is still coming to grips with the news. 
"It's one of those things where you ask why, and there won't be an answer in this life," Barnett said.
Haggerty was a husband and a father to four young children. The 47-year-old devoted his life to the game of basketball.
He played for Baylor from 1991-1995, where he led the nation in assists, a record that still stands, before going on to become the head coach at Midwestern State in Wichita Falls. 
In 2019, Haggerty was hired by UNT head coach Grant McCasland as director of basketball operations, a difficult position during a pandemic.
"A lot of that job was thankless and he always did it with a smile," Barnett said. 
Senior star guard Javion Hamlet spoke about his special years with his mentor.
"A great soul. a great person who came to work every day," he said.
They both arrived in Denton the same year. 
"Teaching me how to be a leader, to be vocal, lead by example," Hamlet said.
Coach Haggerty's death coming just weeks after a colossal season for the Mean Green that included 2021 Conference USA Tournament Champions and the program's first win in the NCAA Tournament over Purdue.
"One of the greatest, if not the greatest men's basketball team they've had here," said John Fields, who is a reporter for the North Texas Daily and made the trip with the Mean Green to Indiana for the NCAA Tournament. "Even head coach always talks about the assistants. Without them, they couldn't have had the success they had, and Nelson was a big part of that."
An overwhelming amount of support poured in on social media Friday afternoon. 
2021 National Champions Baylor University basketball tweeted, "He was a great player known for his unselfishness and charismatic personality during his four years."
UNT Athletic Director said, "Nelson had many special gifts and talents. He was full of positive energy and encouragement."
The same traits Hamlet said he will take with him as he enters the NBA Draft with coach Haggerty always on his mind. 
"We love him and we will continue to make him proud because he's watching over us," Hamlet said.
Haggerty was in Waco last week celebrating their championship parade.
Funeral arrangements are still being prepared.