Twin sisters' bickering relationship ends in deadly crash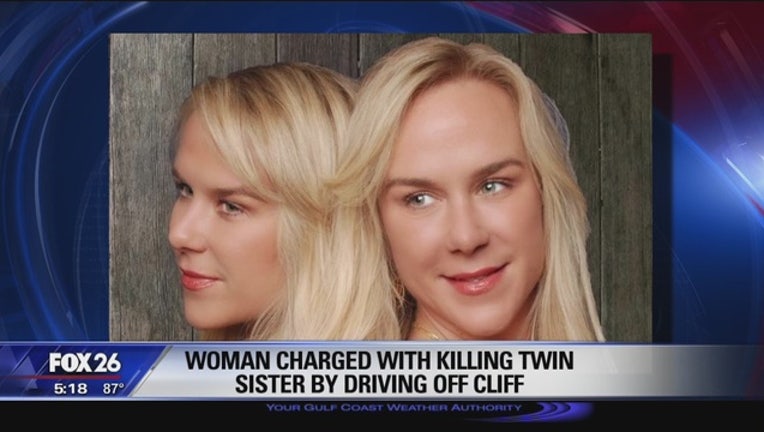 article
HONOLULU (AP) — Identical twin sisters Alexandria and Anastasia Duval always lived together, played together and worked together, operating what were once two of the hottest yoga studios in the Palm Beach, Florida, area. They called the business Twin Power Yoga.
They would finish each other's sentences, and while they had boyfriends, their sibling relationship seemed to come first.
But after a reality TV project fell through, the two descended into a cross-country spiral of business failures, debts, arguments and drunken run-ins with the law that all came to a tragic end last week, when their SUV plunged off a 200-foot cliff on Maui's rocky shore during what was described as a hair-pulling fight over the steering wheel.
Anastasia, 37, was killed, and Alexandria was arrested and jailed on a second-degree murder charge, accused of deliberately causing her sister's death.
On Wednesday, however, a judge ordered Alexandria's release after determining there was no probable cause for a murder charge.
"We will have to see what other evidence we can find by furthering the investigation," Maui Prosecuting Attorney John Kim said when asked what prosecutors plan to do next.
Despite the judge's ruling, defense attorney Todd Eddins said he was trying to bail her out Wednesday evening. He said she was still jailed because of charges related to a previous arrest involving disorderly conduct.
She's eager to get to upstate New York in time for her sister's funeral, Eddins said.
"She's grateful but she's still traumatized by the whole series of events," he said.
Leslie McMichael, who became the sisters' spiritual adviser after meeting them at a Kabala center in Florida, called the crash a horrible turn of events.
"They were beautiful twins with so much life. They were so funny. They were such a machine together that people would stop and watch them," she said.
Authorities said Alexandria was behind the wheel of a Ford Explorer on May 29 when witnesses saw the sisters arguing on Maui's Hana Highway, a perilously narrow, twisting route along a scenic stretch of coastline. A witness cleaning a family gravesite on the highway shoulder told police that he heard a woman screaming in the vehicle and that the passenger was pulling the driver's hair and the steering wheel.
The SUV accelerated, made a hard left turn and crashed into a rock wall, then went over the cliff, authorities said. Anastasia was pronounced dead at the scene. Alexandria was hospitalized in critical condition but appeared in court Monday with her arm in a sling.
The twins had been fighting and drinking earlier on the day of the crash, Federico Bailey, Anastasia's boyfriend, told the Maui News. He said they had gone camping together for the Memorial Day weekend.
The sisters' relationship involved distrust and constant fighting but also love, he said: "When they drink, their personalities change."
Eddins disputed the allegations against her, saying she "did not try to harm herself or the person she most loved and was closest to in the world." He called it a "heart-shattering" tragedy for the sisters' family.
Before they changed their names from Alison and Ann Dadow, the twins ran two popular Twin Power studios in Palm Beach County, Florida, from 2008 to 2014.
Brett Borders, a former student of theirs, said they held the best yoga classes he has ever taken. "They were very good at picking and training yoga instructors. They were very consistent. The best teachers around. It was just very high quality," he said.
The sisters were living large, with fancy cars, before they suddenly closed the studios and bolted town, leaving behind bewildered customers and friends and many debts. Employees and vendors complained they hadn't been paid, and customers' memberships were rendered worthless.
McMichael said their downfall began after they were approached by reality television producers who wanted to feature them on a show.
They had outgrown one of their studios, in well-to-do Palm Beach Gardens, but instead of annexing a neighboring storefront as planned, they were persuaded by the producers to lease space on the priciest, trendiest street in West Palm Beach, McMichael said.
They were banking on the TV income to make it work, but then the show fell through and they were stuck with a lease they couldn't afford, she said.
"They were all but in. They had set up their lives around" the show, McMichael said. "When it didn't happen, they were in too much debt."
The sisters moved to Utah and opened a yoga studio in the high-end ski town of Park City in 2014. They had several run-ins with the police during the two years they lived in the state, and faced charges including drunken driving, intoxication and leaving the scene of an accident.
In January 2014, they were kicked out of a restaurant when their drinking got out of hand, according to police. Officers said the twins fought with each other and with police who arrived after their car slid into a ditch. Hair-pulling was also involved.
The sisters had a close bond but struggled with alcoholism as their Park City studio floundered, said Utah lawyer Craig Chlarson. They never mentioned their success in Florida, but never seemed like they'd purposely hurt or take advantage of anyone, he added.
The twins legally changed their names in Utah in 2014 to write a book together, according to court documents. Both women filed for bankruptcy around the same time and reported around $150,000 in debts each, including two 2013 Porsche Boxsters.
Looking for a new start, they moved to Maui in December and planned to open yoga studios, according to Alexandria's attorney. But they were soon charged with disorderly conduct and terroristic threatening over a Christmas Eve incident.
Their rowdy behavior doesn't tell the twins' full story, said McMichael, the spiritual adviser.
Referring to them by their previous names, she described Alison (later Alexandria) as outgoing with a "big, dominant personality" and a tendency to drink too much sometimes, and called Ann (Anastasia) "the sweetest, kindest, most level-headed person you would ever meet."
McMichael said the pair, whose mother had died when they were 5, always lived together and put their relationship ahead of their boyfriends.
"They realized that love was not in their future because they were so co-dependent," she said. "I would joke that the only people who would understand them were a pair of male twins who would understand that they needed to be together."
___
Spencer reported from West Palm Beach, Florida, and Whitehurst reported from Salt Lake City. AP Researcher Rhonda Shafner contributed to this report.