TSA: Record number of firearms found in carry-on bags at airport security checkpoints in 2022
WASHINGTON - The Transportation Security Administration recorded a record number of firearms found at airport security checkpoints throughout the country in 2022.
According to TSA, the agency prevented 6,542 firearms from getting past security checkpoints last year, adding that 88% of them were loaded.
This number surpasses the previous record of 5,972 firearms detected in 2021 — a nearly 10% increase over 2021's record level.
Firearm possession laws vary by state and local government, but firearms are never allowed in carry-on bags at any TSA security checkpoint, even if a passenger has a concealed weapon permit.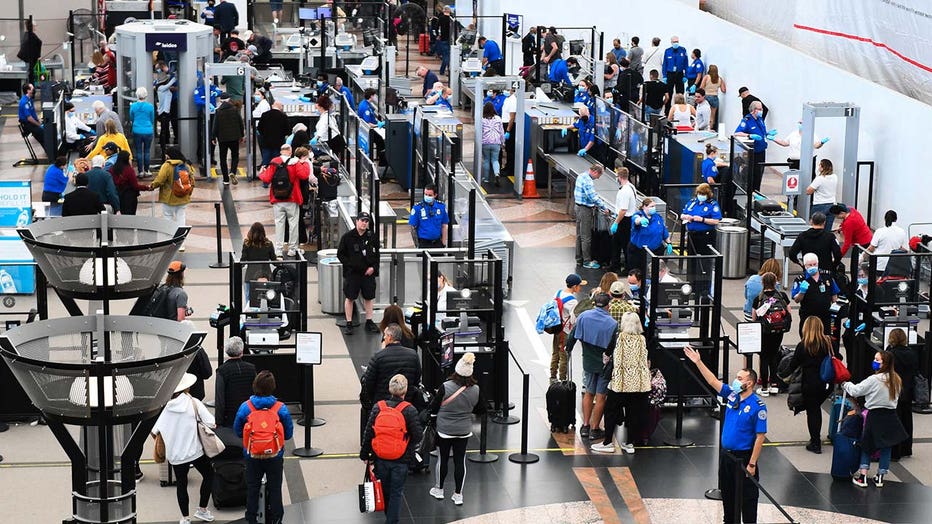 Airline passengers, some not wearing face masks following the end of Covid-19 public transportation rules, wait at a Transportation Security Administration (TSA) checkpoint to clear security before boarding to flights in the airport terminal in Denve
"I applaud the work of our Transportation Security Officers who do an excellent job of preventing firearms from getting into the secure area of airports, and onboard aircraft," said TSA administrator David Pekoske. "Firearms are prohibited in carry-on bags at the checkpoint and onboard aircraft. When a passenger brings a firearm to the checkpoint, this consumes significant security resources and poses a potential threat to transportation security, in addition to being very costly for the passenger."
Following the reduction in travel as a result of the COVID-19 pandemic, the number of firearms that have been stopped from passing through security checkpoints saw a sharp spike. In 2019, the number of firearms stopped was at 4,432.
In one instance on Sept. 29, a man was stopped at Ronald Reagan Washington National Airport outside Washington, D.C. after attempting to carry a 9mm handgun loaded with 14 bullets through the security checkpoint.
Most firearms found at Atlanta airport
TSA reported 262 airports with firearm discoveries last year. 
Hartsfield-Jackson Atlanta International Airport shattered the record for most guns found in luggage at security checkpoints. In total, the TSA reported its officers found a total of 448 firearms in travelers' carry-on luggage. 
This was followed by Dallas Fort Worth International Airport with 385 firearm discoveries and Houston's George Bush Intercontinental Airport with 298.
RELATED: Airline passenger's video captures last moments before Nepal crash
TSA officers stopped 39 handguns at New York City area airport checkpoints in 2022 — an increase from the 26 guns caught in 2021. The biggest jump in the number of firearms was seen at LaGuardia Airport where TSA officers detected 11 handguns in 2022, up from four caught in 2021.
Meanwhile, officers stopped 118 handguns at Virginia airport security checkpoints in 2022, a new record and a 20% increase from the 98 guns caught in 2021.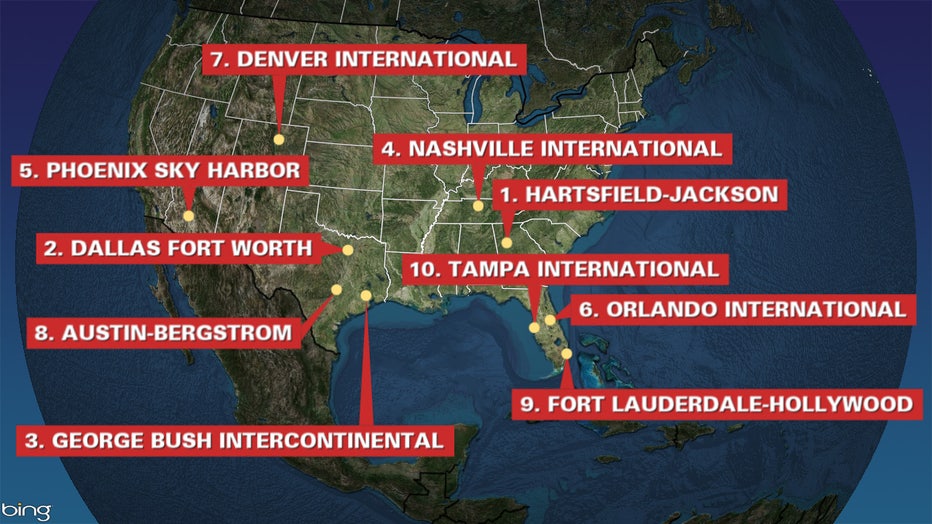 LIST: Top 10 airports for firearm confiscation
Hartsfield-Jackson Atlanta International Airport: 448
Dallas Fort Worth International Airport: 385
George Bush Intercontinental Airport: 298
Nashville International Airport: 213
Phoenix Sky Harbor International Airport: 196
Orlando International Airport: 162
Denver International Airport: 156
Austin-Bergstrom International Airport: 150
Fort Lauderdale-Hollywood International Airport: 134
Tampa International Airport: 131
TSA increases penalty for firearms violation
In hopes of reducing the threat of firearms at checkpoints, TSA has increased the maximum civil penalty for a firearms violation to nearly $14,950 in 2023. 
TSA notes it will continue to revoke TSA PreCheck eligibility for at least five years for passengers caught with a firearm in their possession. In addition, the agency may conduct enhanced screening for those passengers to ensure no other threats are present.
Depending on state or local law in the airport's location, passengers who bring firearms to a checkpoint may be arrested by law enforcement.
Passengers traveling by air who wish to transport firearms must do so in checked baggage. Those passengers must follow proper packing guidance for firearms in checked baggage and declare them to their airline at check-in. 
On Monday, agents at the San Antonio International Airport discovered an 84-mm caliber weapon in checked luggage. TSA initially noted Monday that the weapon was "undeclared," but on Tuesday made a correction, confirming that the passenger declared the item in question to the airline, but that TSA was not informed. 
"Out of an abundance of caution, TSA did not allow the item through baggage screening," the agency wrote on Twitter.
Airlines may have additional requirements for traveling with firearms and ammunition, so travelers must also contact their airline regarding firearm and ammunition carriage policies prior to arriving at the airport.
This story was reported from Los Angeles.