Trackdown: Help find Nelson Gonzales Flores' killer
DALLAS - In this week's Trackdown, Dallas police are searching for the person who murdered and robbed a father of three as he sat in his car.
Nelson Gonzales Flores, who had a grandchild due this week, went out after work last month and never returned home.
CrimeStoppers is offering a reward and FOX 4's Shaun Rabb has the surveillance video investigators want the public to see.
This happened back on December 10, in Far Northeast Dallas, near the border with Garland.
Police said Flores was killed just before 4 a.m., in the 11600 block of Colewood Lane.
"Our victim in this case, Nelson Gonzales Flores, is in the Rick's Burgers parking lot," Dallas PD Det. Phillip Wheeler said. "An unknown suspect approaches, sneaks up behind him, and executes him through his car window. Opens his door, takes his property, and flees."
Wheeler said no words were exchanged, and the investigation shows Flores was innocent.
"Nothing wrong, he was sitting there minding his own business," Det. Wheeler added. "It's disturbing, Nelson was a true victim, minding his own business, doing nothing wrong, and this person took him away from his family.
Dallas police are releasing surveillance video that shows the suspect in Flores' murder walking around the area.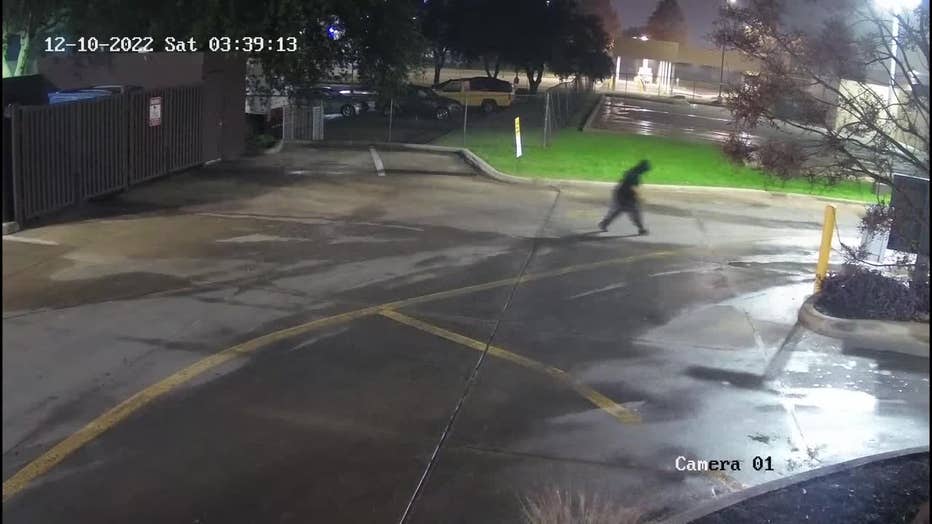 "We do have video of the suspect. He's going to walk through, kind of casing the area. He's going to walk around the building, you're going to see him sneak up on Colewood here," Det. Wheeler explained. "And I believe it's going to be a white male, late 20s, early 30s, maybe homeless, maybe lives in motels around here, but they're wearing a backpack, some plaid pajama pants, and a dark hoodie."
Investigators said after the suspect walked around the area, he killed Flores.
"He walks up about a second later, pulls his gun up, and shoots Mr. Gonzales, executes him," Det. Wheeler said. "And then he opens his door, he takes Mr. Gonzales' wallet, his cash, and his property."
After the murder, the suspect went to wash the blood off his hands.
"Right after the murder, he does go back behind Ricks here. There's a puddle of water. He cleans himself up a bit, and when he does walk back there, you kind of see a side profile of his face," Det. Wheeler said. "He tries to wash the blood off his hands."
Police are asking anyone with information about this case or the suspect to call Det. Wheeler 214-671-3686.