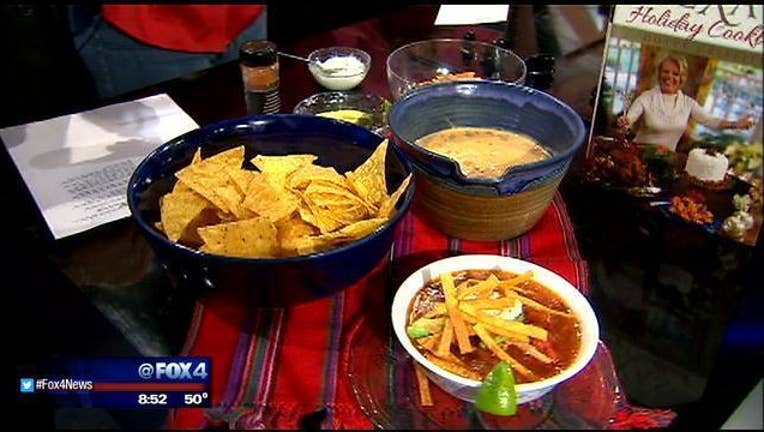 article
Tortilla Soup
1/2 cup vegetable oil
1 cup chopped onions
2 cloves garlic, crushed
1 (8-ounce) can tomatoes with green chilies
4 cups chicken stock
1 (8-ounce can) tomato
2 teaspoons chili powder
1 teaspoon ground cumin
1 teaspoon salt
1 teaspoon pepper
4 corn tortillas, cut into strips
1 1/2 cups cooked chicken
ken, cut or torn into bite size pieces
1 cup Monterey Jack cheese, grated
1 avocado, thinly sliced
1/2 cup sour cream
8 lime wedges
Heat 1 tablespoon vegetable oil in a large saucepan or dutch oven over medium heat. Add onions and garlic, cook until soft. Add tomatoes with green chilies, stock and tomato sauce.
Stir in chili powder, cumin, salt and pepper to taste. Reduce heat to low and simmer 30 minutes.
Meanwhile, heat remaining oil in a small skillet over medium-high heat. Fry tortilla strips in batches until crisp. Drain on paper towels.
Add chicken to soup and bring liquid to a boil. Remove from heat. Ladle soup into bowls and garnish each bowl with tortilla strips, a sprinkling of cheese, a few avocado slices, and a dollop of sour cream. Serve with a lime wedge.
Makes 8 servings.

Chile Con Queso
1/2 cup onion, coarsely chopped
1/2-3/4 cup chicken stock
1 (10-ounce) can tomatoes with green chilies
1 (16-ounce) block of processed cheese, cut into 2-inch cubes
Place onion in a large saucepan over low heat. Add 1 tablespoon chicken stock and cook until onion begins to soften, 2 to 3 minutes. Stir in tomatoes and cheese. As cheese begins to melt, stir in chicken stock, 1/4 cup at a time, until cheese is melted. Add chicken stock as needed for desired consistency.
Makes about 4 cups.

Dotty Griffith's website is www.truetexascuisine.com. She is the author of 9 cookbooks and writes about food for newspapers, magazines, and websites. She an authority on Texas food and cooking.