EF-1 tornado damages homes in Fannin County
LEONARD, Texas - People in Fannin County are cleaning up after a tornado Monday night.
The National Weather Service determined the damage left behind near Leonard and Trenton was caused by an EF-1 tornado, with winds topping 95 miles an hour.
Fannin County's Emergency Management Agency estimates 20 to 25 homeowners now have damage to their property – ranging from downed fences to major roof damage.
RELATED: Hail pummels majority of North Texas, tornado reported in Fannin County
Video from SKY 4 shows the damage done to several homes and structures caused by damaging winds.
Fannin County Emergency Management Coordinator Troy Hudson says at least a dozen homes and structures, mostly along Highway 78 near Leonard, were damaged by the storm.
"We were very lucky because there are no injuries," he said.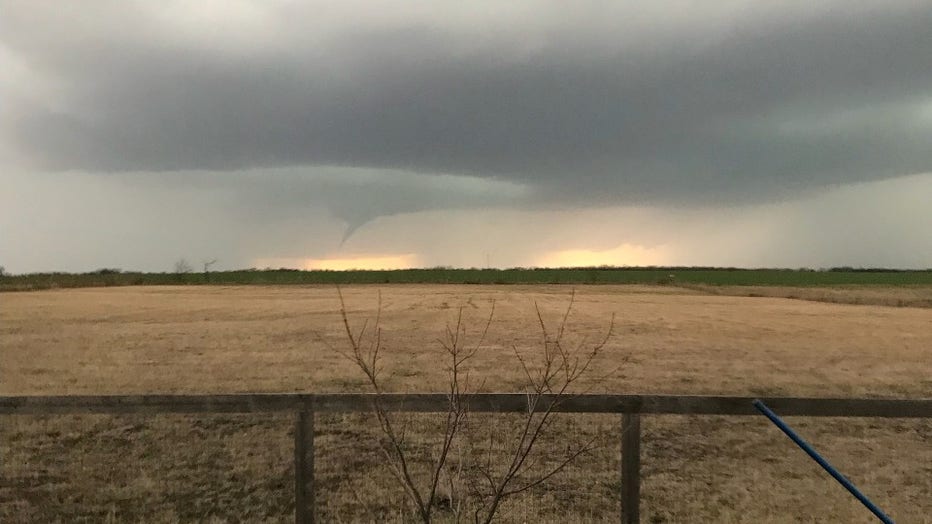 Hudson toured the mile-long debris field with a meteorologist from the NWS Fort Worth Office.
"She's talking to the homeowners and they're looking at the damage, seeing what the material of the house is made of and the buildings and the structures are made of," he said. "That actually helps them determine when it comes to the windspeed and the looking at the radar to determine where the path was and for them to come up with the rating on the wind speed.
As the sun came up Tuesday, homeowners began surveying the damage.
Tom Peterzelka's home made it through the storm with just some minor exterior damage, but several buildings around the house were destroyed.
The roof was ripped off one building and a piece of that roof ended up in a tree. Three others were smashed.
Peterzelka said his family didn't hear the tornado as it was approaching because they have concrete walls. But when they looked outside, their pool cover was gone.
"The pool cover disappeared and I'm like how can that be? It's been blown all winter long because there's always wind here. Then we look out the window and the things and the things on the patio were headed into a westerly direction and slammed into the other side of the house," he said.
Cheri White just happened to be on the porch at the time and saw the tornado coming.
"We could see our neighbors roof up in the air, so we knew it was a tornado," she said. "We watched it for a few minutes then went inside where it was safe, then came out and most of our roof was gone."
White said she has seen tornadoes before, but Monday night was the first time one actually damaged her house.
People are just thankful the damage wasn't any worse and no lives were lost.