Thursday is Ovation Day in Dallas and Fort Worth
DALLAS - There was a coordinated effort between the Dallas and Fort Worth mayors to go out and make some noise as a show of support for healthcare workers and essential workers.
The idea began with Dallas Mayor Eric Johnson. Fort Worth Mayor Betsy Price joined the effort.
RELATED: Coronavirus coverage
"Mayor Johnson came up with this idea and I called him and I said, 'How about we do this together, Eric? We'll do DFW.' And he thought it was a great idea. And so now we are encouraging the other mayors to have their citizens step out a 7 p.m. and clap or cheer or turn their porch lights on to celebrate," Mayor Price said.
From Fort Worth's JPS Hospital to UT Southwestern in Dallas, the ovation for frontline workers across DFW at 7 p.m. Thursday night was likely the largest the metroplex has ever seen.
"We want them to know that they're appreciated," Price said. "They're going home to their families. We want them to know how much they care. Not just tonight, but every day."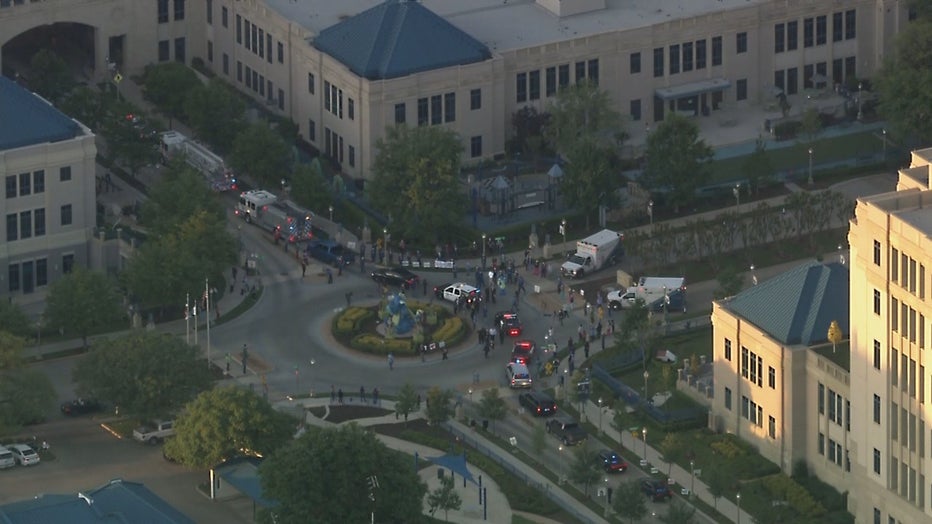 Price stopped by five of the major hospitals to give her personal thanks from a distance, taking a moment for a selfie with nurses and doctors and Texas Health Harris.
Dallas Mayor Eric Johnson said thank you from his neighborhood.
"I'm proud of our nurses and doctors and everyone who is keeping us safe right now. I want everyone to know we're in this together," he said.
And in uptown Dallas, outside of a Baylor ER, the enthusiasm peaked from Jason Hull, someone who knows what it's like to put his life on the line for his fellow Americans.
"I'm a veteran. So I know when people say thank you for your service, I appreciate that," Hull said. "I think when you go to med school, you don't think that you're going to get exposed to something that could potentially kill you, that could kill your family. Yet without ever having signed up for that, they're still making that sacrifice."
People in the L2 apartment complex are not only cheering, but have been collecting money and donating meals to hospital workers.
In Fort Worth, people came out to their balconies and banged pots and pans.
From Uptown Dallas to family backyards, people showed support for our medical workers, grocery store workers and people delivering food in any way they can.
RELATED: Interactive map of Texas COVID-19 cases
DALLAS SAYS THANK YOU: The Dallas skyline is awash in blue for the 'Light It Blue' campaign to thank medical professionals and essential workers on the front lines fighting COVID-19. (Joseph Haubert Photography)