The Latest: Japan protests N. Korean missile test attempt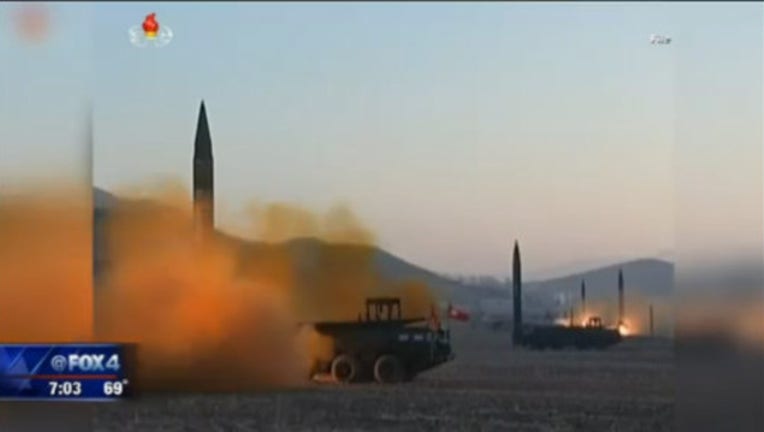 SEOUL, South Korea (AP) - The Latest on the failed launch of a North Korean missile from the country's east coast (all times local):
9:50 p.m.
The Japanese government says it has protested to North Korea over its latest attempted missile launch, but that the failed firing had no security impact on Japan.
Japan's Foreign Ministry and the Prime Minister's office released almost identical statements late Sunday, citing the U.S. announcement about North Korea's failed ballistic missile launch from its east coast.
According to the statements, "Japan does not tolerate repeated provocations like this by North Korea," and protested to the North over the action.
___
7 p.m.
U.S. Vice President Mike Pence says North Korea's "provocation" is another reminder of the risks that U.S. and South Korean service members face every day "in the defense of the freedom of the people of South Korea and the defense of America in this part of the world."
Pence said Sunday at a fellowship dinner at U.S. Army Garrison Yongsan in Seoul that the willingness of military members "to stand firm without fear inspires the nation and inspires the world."
The vice president spoke at a dinner after attending Easter church services with service members at the garrison. He arrived in South Korea shortly after a failed missile launch by the North that surrounded the birth anniversary of North Korea's late founder.
___
6 p.m.
China's official Xinhua News Agency says China's top diplomat, Yang Jiechi, and U.S. Secretary of State Rex Tillerson discussed the situation on the Korean Peninsula in a phone call Sunday amid escalating tensions in the region.
It was unclear exactly when the conversation took place on Sunday, but Xinhua's report of the call came out after a failed missile launch by North Korea. The report included no further details on the call between State Councilor Yang and Tillerson. China's foreign ministry did not immediately respond to a request for comment.
China, North Korea's most important ally and key provider of food and fuel aid, has sought to cool tensions over Pyongyang's nuclear weapons and missile programs, repeatedly calling for dialogue.
U.S. officials say the Trump administration's emphasis will be on increasing pressure on Pyongyang with the help of China.
___
5:45 p.m.
A White House foreign policy adviser says the type of missile that North Korea tried to fire on Sunday was medium-range, and that it exploded 4-5 seconds after it was launched.
According to the adviser, the U.S. had good intelligence both before and after the launch. The adviser is traveling with Vice President Mike Pence, who arrived in Seoul in the afternoon to start a 10-day trip to Asia.
No planned response is expected from the Trump administration because the official, who spoke on condition of anonymity to discuss the administration's initial understanding of the launch, said there was no need for the U.S. to reinforce the failure.
The official said that had it been a nuclear test, "other actions would have been taken by the U.S."
North Korea has conducted five nuclear tests, including two last year. Recent satellite imagery suggests the country could conduct another underground nuclear test at any time.
__ AP writer Ken Thomas, Seoul, South Korea
___
3:40 p.m.
U.S. Vice President Mike Pence has arrived in South Korea at the start of a 10-day trip to Asia that comes amid turmoil along the Korean Peninsula over North Korea's threats to advance its growing nuclear and defense capabilities. His visit comes just after a failed missile launch by the North.
President Donald Trump's vice president arrived in the region after North Korea celebrated the birth anniversary of the country's late founder with a military parade.
Pence is joined by his wife and two adult daughters and will lay a wreath at the Seoul National Cemetery and join U.S. and South Korean troops for Easter Sunday church services and a dinner.
Pence is the son of a Korean War veteran and displays his late father's Bronze Star in his office.
___
9:44 a.m.
President Donald Trump was uncharacteristically quiet about the failed launch of a North Korean missile from the country's east coast.
In a statement, Defense Secretary Jim Mattis says Trump and his military team "are aware of North Korea's most recent unsuccessful missile launch. The president has no further comment."
Trump has been leaning on China to put pressure on North Korea, but has also threatened to take on the country alone if necessary. "I have great confidence that China will properly deal with North Korea. If they are unable to do so, the U.S., with its allies, will!" he tweeted Thursday. "U.S.A."
___
9:34 a.m.
A North Korean missile exploded during launch Sunday from the country's east coast, U.S. and South Korean officials said, a high-profile failure that comes as a powerful U.S. aircraft carrier approaches the Korean Peninsula in a show of force.
It wasn't immediately clear what kind of missile was fired from the city of Sinpo, but the failure will sting in Pyongyang because it comes a day after one of the biggest North Korean propaganda events of the year- celebrations of the 105th birthday of late North Korea founder Kim Il Sung, the current leader's grandfather.
Washington and Seoul will try hard to figure out what exactly North Korea fired. This matters because while North Korea regularly launches short-range missiles, it is also developing mid-range and long-range missiles meant to target U.S. troops in Asia and, eventually, the U.S. mainland.
___
8:25 a.m.
South Korea's Joint Chiefs of Staff says that North Korea has attempted to launch a missile from an eastern coastal city, but the launch appeared to end in failure.
The statement Sunday said it wasn't clear what kind of missile was involved.
North Korea launched a long-range rocket and conducted two nuclear tests last year, including its most powerful to date, and there have been a slew of shorter range missile firings.
North Korea's goal is a long-range nuclear missile that can strike the continental United States.
Sunday's launch comes a day after the 105th birthday of late North Korea founder Kim Il Sung.