Texas teachers fight for more funding, speak out against school choice vouchers
AUSTIN, Texas - Teachers from across Texas are speaking out against school choice vouchers in our state. Instead, the state's largest teachers union is urging lawmakers to increase funding for public schools amid what many are calling an education crisis.
"More funding and less vouchers," that was the simple message chanted by members of the Texas American Federation of Teachers, as teachers rallied outside the AFL-CIO building in Austin Monday.
"When I heard the governor and others talk about 'we're going to fully fund public schools and vouchers at the same time', I said how the hell can he fix his mouth to say that?" said Texas AFT President Zeph Capo.
Gov. Greg Abbott has strongly advocated for school choice vouchers in recent months, which would give families up to $10,000 to send their child to private school.
"No parent should be hindered in their ability to utilize that power to do everything they can," said Abbott at a rally earlier this month.
While Abbott argues public school funding will not take a hit, telling Texas: The Issue Is last month "there's no reason to have this fear raised about it," teachers and even some students say they are worried.
"At the end of 2022, just before winter break, I had three out of my seven teachers quit in one week, in one week," said Ayaan Moledina, an eighth grader in Round Rock ISD.
With many of their colleagues leaving the profession in droves, teachers at Monday's rally say they desperately need more funding, not less.
"We deserve, at minimum, a $10,000 pay raise. We have gone the last 10 years without a noticeable difference in our pay," said Coretta Mallet-Fontenot, an 11th grade teacher in Houston ISD.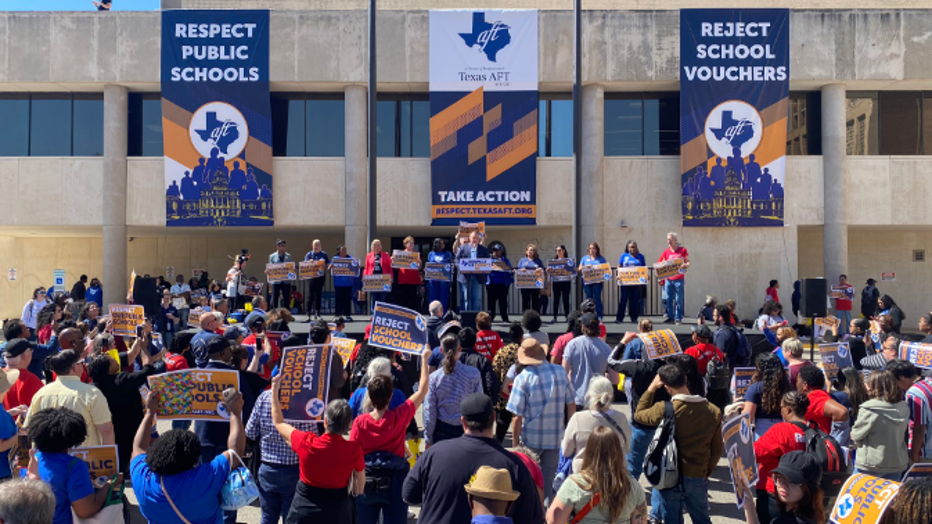 "I am only bringing home $3,000 a month, and I am being asked to work well beyond the hours of 7 a.m.to 3:30 p.m. I'm barely meeting living conditions, like having food in my kitchen," said Sophia DeLoretto-Chudy, a third grade teacher at Becker Elementary School in Austin.
DeLoretto-Chudy says she's spent hundreds of dollars on supplies out of her own pocket.
"I teach at a bilingual school, and we didn't have Spanish-English dictionaries in our classroom. It is basic supplies. And teachers are being asked to provide for their students," said DeLoretto-Chudy.
The rally comes against the backdrop of the looming state takeover of Texas' largest public school district.
Houston ISD staff boarded buses in the pre-dawn hours Monday to head to Austin to speak out against a takeover. The potential move by the Texas Education Agency stems from alleged misconduct by Houston ISD trustees, along with chronically low test scores at one school.
However, Mallet-Fontenot tells FOX 7 those problems have largely been fixed.
"It feels like a personal attack on us as teachers, on the students, on the communities in question, because everyone has worked extremely hard to make the necessary improvements," she said.
Supporters of the takeover, like State Sen. Paul Bettencourt of Houston, argue there are still lingering questions about corruption on Houston's school board.
The takeover is not a done deal, and the TEA Agency will have the final say.