Texas Senate votes to move forward with permitless carry bill
AUSTIN, Texas - Open carry of a handgun in Texas cleared a major hurdle Wednesday.
The Texas Senate fast tracked a permitless carry bill with some changes that need House approval.
Governor Greb Abbott has already said he will sign it into law.
HB 1927, dubbed a 'constitutional carry' bill by Republicans, passed on a party line vote.
It's a bill some North Texas law enforcement officials oppose, including Dallas Police Chief Eddie Garcia, who recently traveled to Austin to lobby against it.
A University of Texas/Texas Tribune poll showed six out of ten Texans oppose it as well.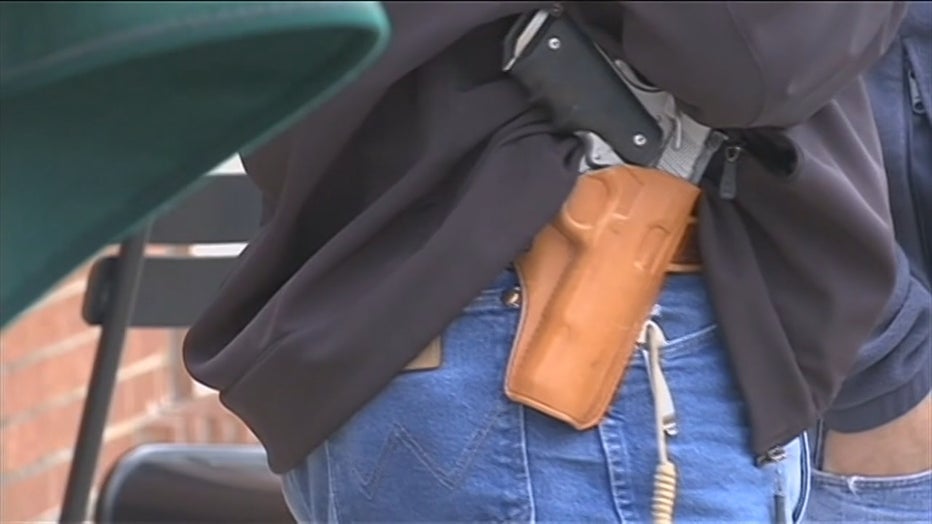 "I think it can get across the finish line. Constitutional carry exists in 20 states already," Gov. Abbot said while visiting Frisco for the groundbreaking of the Omni PGA resort.
If passed, an adult can carry a handgun in a holster without a permit or training.
The Senate version would require businesses who prohibit open carry to add a third notice sign on their building.
The House version would require business owners to give verbal notice.
The Senate also increased penalties for felons who are caught with a gun.
A person who has been convicted of domestic violence caught with a weapon would be charged with a third degree felony.
Some Democrats, like State Senator Royce West, from Dallas, believes the law, if passed, would negatively impact minorities.
"If someone is violating a traffic law, is that reasonable suspicion?" West said. "We are going to see an increase in minorities being prosecuted or stopped by police officers, as it's related to this bill and that's just a fact."
West did not provide any studies or statistics on why.
But the Senate passed an amendment making it illegal for an officer to profile based on permitless carry.
Supporters of the bill say anyone who legally cannot own a firearm right now will not be able to own one if the bill becomes law.
"People are already allowed to have constitutional carry for long guns in the state of Texas. This just adds handguns, someone has to still go through a background check when they buy a handgun," Gov. Abbott said.
Some North Texas law enforcement agencies who oppose the bill had no comment Wednesday, saying they want to see how the amendments are voted on in the House.