Texas restaurants allowed to reopen at 50% capacity
DALLAS - Restaurants can now allow more people inside their doors. But some owners believe it will still be a struggle to make a profit.
For restaurants in Texas, Friday marks the beginning of Phase 2 of a gradual return to something like normal operations.
RELATED: Coronavirus coverage
They were allowed to open at 25% capacity three weeks ago and now the limit has been increased to 50% while still following all required safety guidelines including social distancing.
Maguires is an upscale restaurant in North Dallas near Addison. The managing partner said he understands the need for precautions but for the sake of his restaurant and many others, it would make more sense to do away with the percentage requirement and simply ask restaurants to focus on keeping customers a safe distance apart.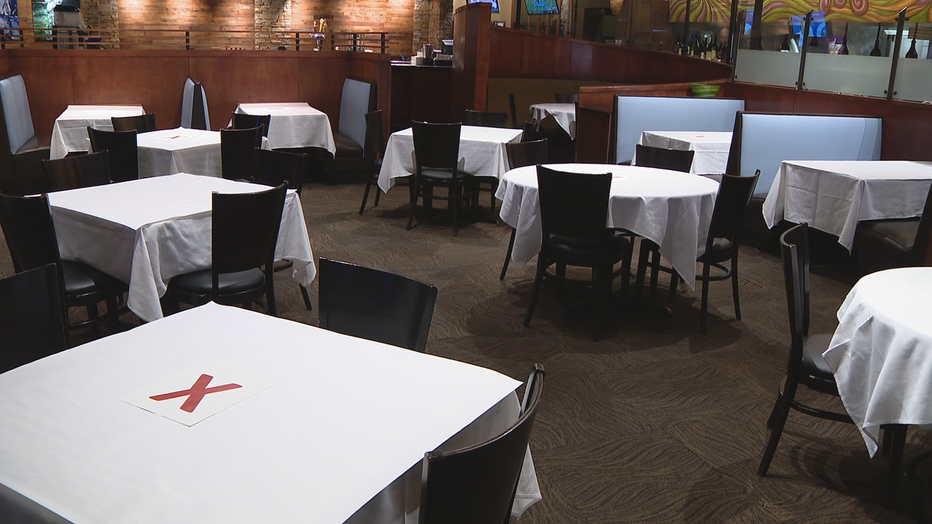 "I can maintain 6 feet social distancing in this restaurant and get 110 people in here," Mark Maguire said. "And so, what I'm trying to figure out is why there is a percentage marker. Make sure they'll be no closer than 6 feet."
Maguire said allowing more customers inside safely is a matter of economic survival for many restaurants.
The head of the Texas Restaurant Association said 12% of restaurants in the state have already closed permanently and the industry has lost 700,000 jobs so far.
The TRA said it's already looking forward to Phase 3 of the governor's reopening plan which would allow for 75% capacity.
Depending on a number of factors, that's a milestone that may be reached by June 12.
Inside Maggiano's in North Park Center, there's a familiar sound filling the restaurant. The sounds of customers chatting at tables while enjoying their favorite meal.
"We just decided we needed to come out and have a nice meal," one customer said.
This is the first time in weeks that one group of friends have gotten together to eat at out at their favorite restaurant.
"I felt safe knowing that they were practicing social distancing here," one of them said.
They weren't sure what to expect.
"When I first walked in and the tables were so far apart the wooden floor looked like a dance floor and I was like, 'Oh wow, how different,'" Stephen Easterling said. "But once we we're seated and service started, it was comfortable."
As of Friday, Texas eateries can now operate to up to 50 percent capacity. That's up 25 percent from the previous week.
The relaxed restrictions means some furloughed workers get to come back to work.
"Last week, I had like one waiter. This week, we have three on, so business is slowly but surely coming back as people are getting more comfortable with it," said Ty Varner, managing partner at Maggiano's.
At Maggiano's, table linens are replaced after every guests.
Tables and chairs are sanitized, parties are seated at least six feet apart from one another, and customers are given single-use menus.
At Fireside Pies, off Abrams Road in Dallas, staff has their masks and gloves on, but business largely remains carry out and delivery.
The hope is that'll soon change.
"There's less pressure we have to put on the guests. They can sit anywhere as long as they're socially distance apart. So that may translate to them. I hope it does," said Dev Engle, GM of Fireside Pies.
It did for the sole couple inside at one point Friday afternoon. They're trying to hit up all of the restaurants in the area, knowing every dollar counts.
"We've been going to restaurants for a couple of weeks," they said. "Unfortunately, I think the economic impact is not going to be good for businesses as a whole."
This Fireside Pies location just opened last year, so the financial hit has been especially tough.
The GM said they're thankful for a loyal customer base.
Maggiano's, meanwhile, has converted their upstairs event space into additional seating, hoping to get a rush this Memorial Day weekend.