Texas Legislature fails to pass bill for teacher pay raises
DALLAS - Republicans and Democrats in the Texas Legislature proposed teacher pay raises this session.
But hope for the teacher raises died with the Texas Republicans' ongoing feud over a private school voucher program.
The pay raises ended up getting tied to the school voucher program, which failed over the weekend.
A coalition of public education advocates, as they have done during the session, made their frustrations known. Those groups are placing the blame for no new dollars for public school and teachers on the Senate. And they are rallying resistance against an anticipated special session on school vouchers.
Public education groups with public praise for the House of Representatives who blocked passage of a multi-billion-dollar school funding bill that the State Senate led by Lieutenant Governor Dan Patrick tied vouchers for private schools to public school funding. That means teachers won't get pay raises, and schools won't get needed dollars.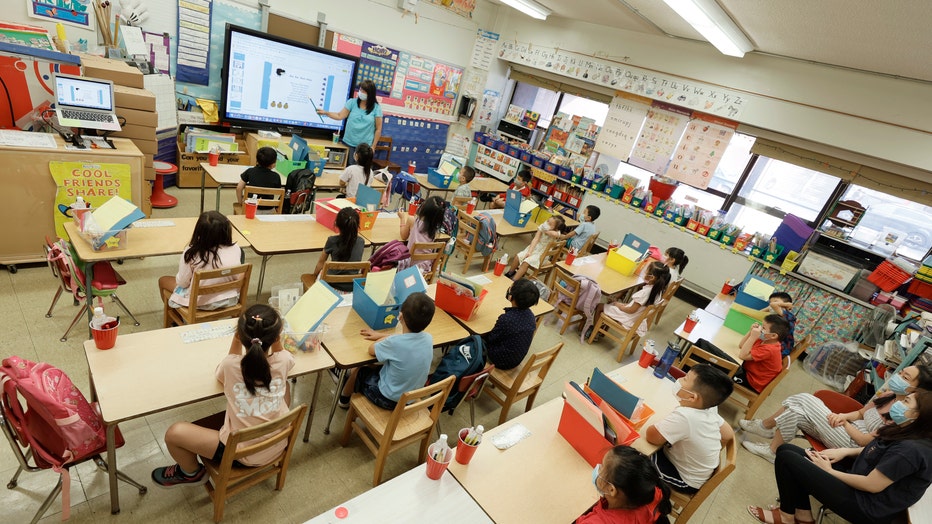 Melissa Moy, a teacher at Yung Wing School P.S. 124, goes over a lesson with in-person summer program students on a monitor on July 22, 2021 in New York City. (Photo by Michael Loccisano/Getty Images)
Plano ISD Board President Nancy Humphrey says they asked whether private schools funded with public dollars would be held to the same standards of accountability and got no answers.
"Never were we told that private schools receiving taxpayer dollars would be subject to the same accountability system or would they comply with the open records laws or would they follow the federal special education requirements or would they have to meet the same school safety standards that public schools must follow," she said.
The complaints are about the Senate's actions, not just from big districts.
"We were told in rural Texas that vouchers would not hurt our schools," said Michael Lee, Texas Association of Rural School. "However, when House Bill 100 went from the House to the Senate, they reduced small and mid-size allotments. They reduced transportation by 30%. They reduced the raises we were going to give teachers. They hurt all public schools."
Public school systems tasked to teach 5.5 million students in a state that ranks 43rd nationwide in per student funding.
Gov. Greg Abbott has promised a special session to try and get vouchers. One of his top legislative priorities passed.
Kevin Brown, the head of the Texas Association of School Administrators, with his own message for the governor, lieutenant governor and the Senate.
"It's time for the political games to stop. It's time to fund our schools to give teachers pay raises and to adjust for inflation to do all of these things that public schools need today and not to hold those funds hostage so that we have vouchers," he said.