Teacher fired for Facebook post about McKinney officer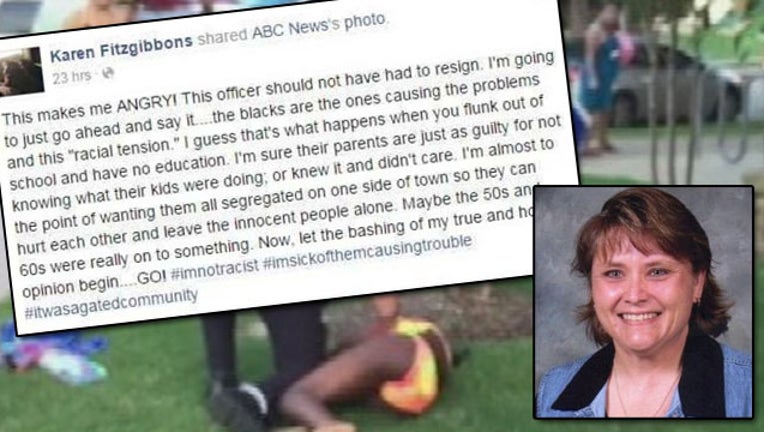 article
A West Texas school district has fired a teacher who said online that she was inclined to support racial segregation after watching widely circulated video of a white officer wrestling a black teenager to the ground.
"I'm going to just go ahead and say it ... the blacks are the ones causing the problems and this 'racial tension.' I guess that's what happens when you flunk out of school and have no education. I'm sure their parents are just as guilty for not knowing what their kids were doing; or knew it and didn't care. I'm almost to the point of wanting them all segregated on one side of town so they can hurt each other and leave the innocent people alone. Maybe the 50s and 60s were really on to something. Now, let the bashing of my true and honest opinion begin....GO! #imnotracist #imsickofthemcausingtrouble #itwasatagedcommunity," the Facebook post stated.
The Frenship school district, near Lubbock, said in a statement Thursday that it was disappointed by the "thoughtlessness" of the Facebook post.
Elementary school teacher Karen Fitzgibbons told the Lubbock Avalanche-Journal that she has apologized for her comments.
Fitzgibbons says she was angered the corporal in the Dallas suburb of McKinney was forced to resign after pushing the teen to the ground last week. Police had responded to a pool following reports of fighting.
A Florida school district earlier announced a high school principal was reassigned after he expressed support online for the officer.

The Associated Press contributed to this report. 

FOX 4 is on YouTube -- http://bit.ly/fox4subscribe