Supply chain challenges continue for North Texas small businesses
DALLAS - Major retailers are expecting a strong holiday buying season after a busy weekend. 
President Joe Biden met with Walmart and grocers Monday to get an update on how the supply chain is moving.
The president got some positive updates on the overall supply chain issue. But many small businesses in North Texas are still dealing with the effects during this holiday season. 
There is positive news from the nation's ports: goods are moving again. 
President Biden reported Monday the number of shipping containers sitting for more than eight days is down by more than 40% this month. But that is trickling down slowly to small businesses. 
"It's all kind of backed up, which just all in all creates backorders and creates a shortage of products that everyone's needing," said Samantha Siebenthall, VP of sales for Southern Grace, a North Texas clothing company.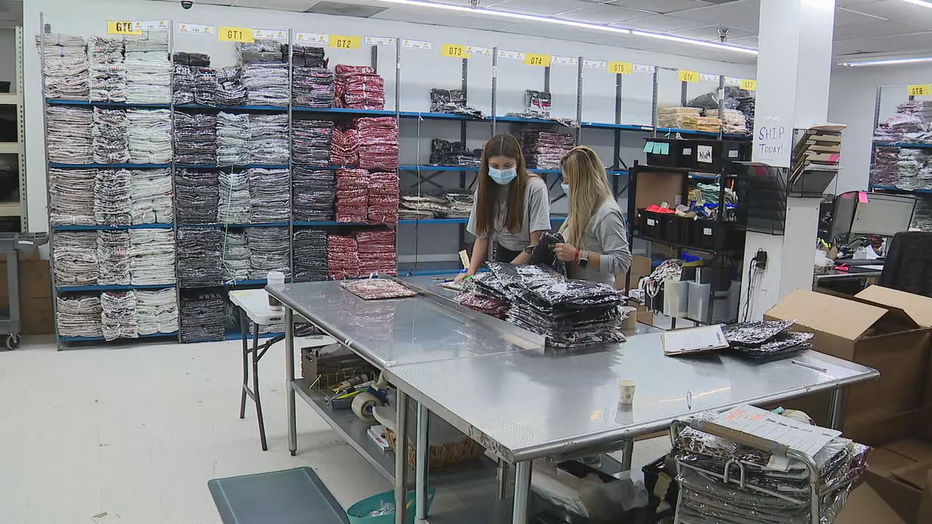 "It says a lot about our growth," said Southern Grace CEO Adeel Mitha. "But it also says how much we lost in 2020 in terms of productivity, and we're seeing it today." 
RELATED: Supply chain crisis limiting selection at North Texas liquor stores
Southern Grace has dealt with difficulties in finding items like shirts and even boxes and tape they use to ship products, forcing them to be more creative.
"Supplies across the board. Raw goods like boxes and tape. Everything you need is just harder to come by now," Mitha said.
As shipping costs go up, the company has tried to avoid passing it on to consumers.
"International shipping has gone up 260%," Mitha said. "We're dealing with rates locally and domestic about 50-60%."
"For us and for many small businesses, we've had to reach into our own pockets to be able to cover those costs so we're not having to raise it a ton," Siebenthall said.
Monday afternoon, Biden met with the heads of major retailers and grocers to discuss how moving the ports to operate 24/7 has affected the supply chain. 
READ MORE: Biden to discuss plans to alleviate supply chain woes, inflation ahead of holidays
Both big retailers and small businesses also say they planned several more months in advance for the holiday season to be able to handle supply chain issues. 
"This holiday season, support your communities and your local businesses," Siebenthall said. "They're competing with big box stores who might not be as struggling as we are to get those things."
Walmart says they actually reported a 10% increase in their inventory over last year. And other big companies that met with the president assured customers they do have enough supply on store shelves.