Students in a few North Texas school districts head back to school
GODLEY, Texas - Some North Texas school districts welcomed students back onto their campuses Tuesday with new safety measures in place.
It was the first day for students in Godley ISD and Keene ISD, which are in Johnson County.
Both superintendents say they feel they made the best decision for their community, noting that Johnson County's COVID-19 cases have stayed relatively low at around 1,500, and the cases out of Keene and Godley are just over 70 with most having recovered.
District officials say they felt safe enough to go back to school.  
There was excitement from parents, kids and teachers as they headed back to school for the first time since March.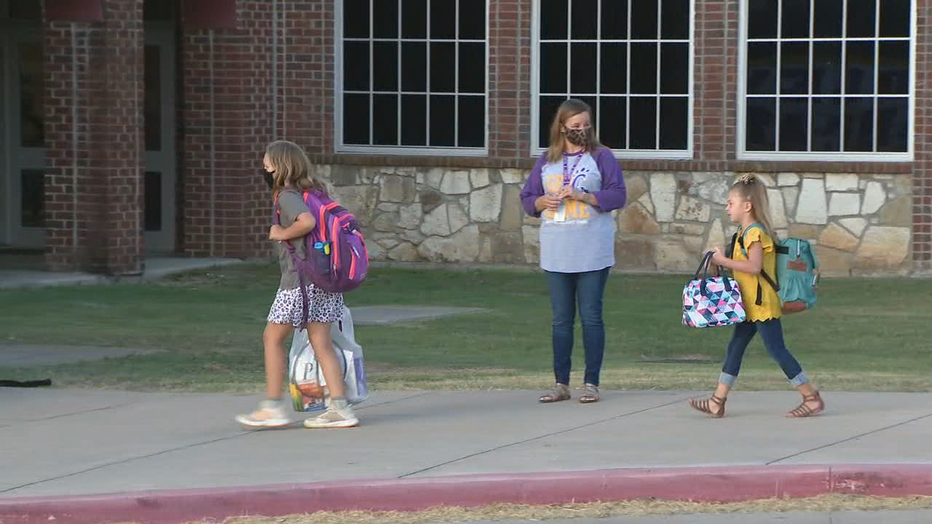 "I said to a lot of them, 'Welcome back from spring break!'" said Keene ISD Superintendent Dr. Ricky Stephens. "They looked at me. Because the last time we've seen these children was the day we got out for spring break."
"I couldn't sleep last night because I was so excited to see the kids back this morning," said Godley Intermediate School Principal Melissa Block.
But along with the excitement, there was some hesitation and anxiety.
"Honestly kind of feel like it's a little bit of a social experiment," said Keene ISD parent Katrina Summit. "Let's send the smallest district back and see how they do. It's nervous. The numbers still aren't great and they're sending our kids back."
Around 70 percent of the 1,000 or so Keene ISD students chose to be in class while the rest opted for virtual learning.
About 80 percent of students also chose in-person learning at Godley ISD, a slightly larger district which also offered virtual learning and a blended learning option with a mix of in-person and virtual.
As expected, the first day of school did look different with students arriving in masks.
At Godley ISD, teachers were making sure students got hand sanitizer after playing on the playground. Music class was in the cafeteria to keep a safe distance, and tables were cleaned after class.
"It was tough," said Godley ISD parent Regina Paneitz. "It was hard taking them out of school, putting them back into school, and all the decisions that came with it and if you're making the right decision or not. But we feel we made the right decision for them to go back."
Nurses at Keene ISD have set up a triage center and quarantine areas for each school so children with possible COVID-19 symptoms can be evaluated away from others and kept separate if they need to be sent home.
"Every superintendent wants to start face-to-face because they know that's the best thing for kids," said Godley ISD Superintendent Dr. Richard Dear. "They just have to balance what's best for their district and their community."
Next week, some larger districts will start school, like Garland, Allen and Frisco ISD. But those districts are starting virtual with in-person classes starting in September.
Dublin ISD in Erath County will do the same as students return Tuesday.
RELATED: School district start dates/delays