Southlake police officers fatally shoot person of interest wanted for North Richland Hills murder
SOUTHLAKE, Texas - A murder suspect wanted by North Richland Hills police was shot and killed by police officers in Southlake.
North Richland Hills police say a 26-year-old man was shot and killed in the parking lot of an apartment complex off Harwood near Grapevine Highway on Monday.
Witnesses gave a vehicle description, and later Southlake police were given an alert that the 28-year-old suspect was in their city.
Southlake police attempted the traffic stop and say the driver got out and pointed a gun at officers. Four officers opened fire.
Jay Sanford was working installing air-conditioning units when he became a witness to four Southlake police officers shooting and killing an alleged murder suspect police say was armed.
"We heard 'Get out of the car! Get out of the car!' And we heard one pop, and then we heard a loud gun noise. And then we just started hiding, trying to duck," he recalled.
A window of Sanford's work vehicle was hit. It's where a coworker was sitting just before the shooting.
"If you were in the car at that time, he'd be dead. Out of there," said witness Taylor Lee. "It's crazy. Made me think about life, you know."
Southlake police say the man killed is a North Richland Hills murder suspect. 
That shooting happened off Weyland and Harwood Drive around 12:30 p.m. Monday. A 26-year-old man was killed.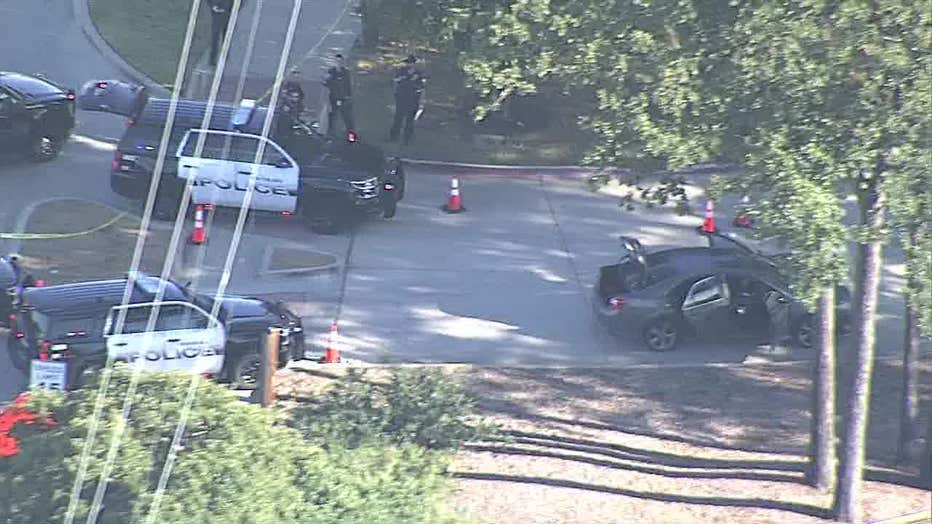 "We found one male on the ground deceased with a gunshot wound," said North Richland Hills Police Officer Micah Hayman.
Witnesses detailing a grey or silver 4-door sedan driving away, according to North Richland Hills police. 
Those investigators IDed a 28-year-old person of interest and notified Southlake police because they say they had evidence he was in their area.
"But we know at that point that we're doing a traffic stop on a person of interest in a homicide," said Southlake Police Chief James Brandon.
Four officers pulled the suspect over on the service road of eastbound Highway 114 just east of Carroll Avenue.
"He got out of the car and directly pointed his gun at uniformed police officers," Brandon said.
The officers shot and killed him. Southlake police say they recovered a gun near the suspect but say it's unclear if the suspect fired that gun at officers.
"Keep in mind that in that moment, they're in a crisis. And when the officers begin to discharge their weapons, all those gunshots sound the same," Brandon said. "So it's difficult in that crisis to determine if he actually got a round off at the officers or not."
Sanford and Lee say with gunfire ripping throughout such a busy area, the end result could've been a whole lot worse.
"I'm just glad that we're okay and no one got hurt," Sanford said.
The Texas Rangers are investigating. 
The experience of the four law enforcement officers ranges from eight to 31 years.