SMU takes extra precautions with COVID-19 protocols at football games
DALLAS - SMU is making changes when it comes to COVID-19 safety protocols at football games.
The changes come after students were kicked out of the last home game for breaking the rules.
Earlier this month, in their game against Memphis, fans were seen in the student section without masks and not practicing social distancing.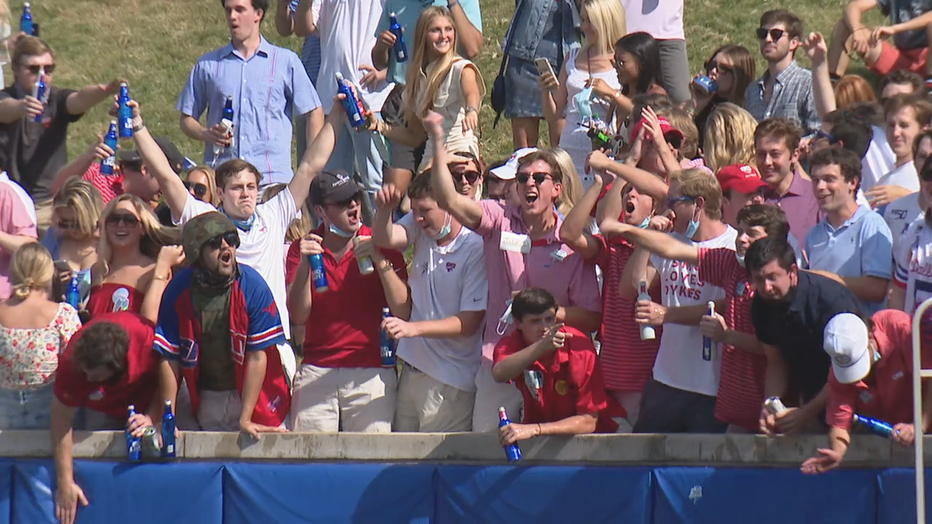 No. 9 Cincinnati played the No. 16 Mustangs, and homecoming looked different Saturday night, as students had to sit in pods and continue to wear masks when not eating or drinking.
This change was made to prevent another crowding issue.
Dozens of students were not complying with the mandatory mask and social distancing guidelines.
at SMU's home game against Memphis a few weeks ago.
Police removed students from the grassy area before the game was over.
Fast forward to Saturday, and there was a pod system for students.
Any student with a ticket in the stands couldn't sit in the grass area.
There was also an increased law enforcement presence around the section.
"I don't know how well it's going to work. They do look kind of small. It's supposed to fit 10 people. I don't know if 10 people are going to fit comfortably within the boxes," freshman Hannah Siegel said.
The marching band was also in attendance.
Some students said they hope everyone follows the rules so that everyone can enjoy the season while also being safe during the coronavirus.
"Obviously, the game gets hype, so it's kind of hard to social distance with a group of buddies, but we try to keep our masks on and stuff," freshman Joshua Widjaja said.
"We are all pretty scared of getting coronavirus. No one wants to go into isolation. So we do try to stay away from other people. That is our mentality as a group," Siegel said.