Shortage of workers leading to more delays for Dallas trash collection
DALLAS - The city of Dallas says a labor shortage is causing a delay in sanitation collection.
This comes just weeks after the city came under fire for long delays in getting bulk trash picked up. 
But at the end of the day in Dallas, not all the trash can be picked up — at least not the items to be recycled. 
The city of Dallas announced on Tuesday that it will delay residential recycling pickup by one or two days in various parts of the city over the next several weeks. The reason is a shortage of workers. 
"We thought coming out of the pandemic, it would return back to normal and we would get people hired," said Dallas Sanitation Services Interim Director Tim Oliver. "I think the heat that came on all of a sudden. Those guys work out in the heat. I think that has affected it as well. We just did not come out of it as quickly as we expected."
Oliver says the sanitation labor shortage is being felt around the country right now.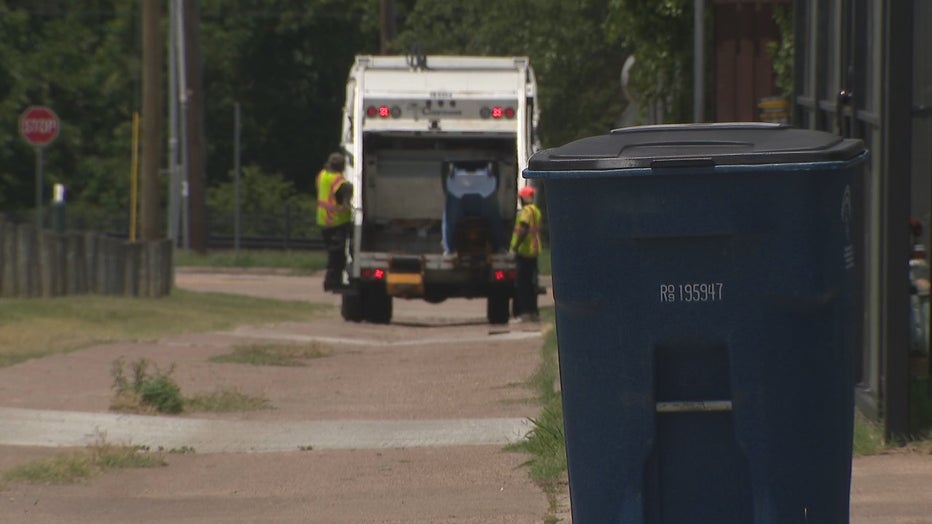 RELATED: Dallas residents irritated with bulk trash collection delays across the city
In Texas, Gov. Greg Abbott ended the additional $300 in weekly federal unemployment benefits last Saturday. 
"We're hopeful that will have an impact here pretty soon," Oliver said.
Oliver says the city is also set to increase pay to $15 an hour starting in mid-August. 
"We want to take care of residents. We know they pay for a service and they deserve a good service level," he said. "It's frustrating we are not providing it on the pickup days that we used to. We hope to get back to it soon."
The news of recycling delays comes just a month after the city came under fire for leaving bulk trash sitting on sidewalks for weeks. 
Oliver says additional employees have been hired to address that problem.
Dallas City Councilwoman Cara Mendelsohn plans to ride along with sanitation workers Thursday morning to try to determine the root cause of all the problems. 
"Sometimes you have to see it to know the right questions to ask and to understand all the issues," she said.
If your recycling is not collected on time, the city wants residents to know that they are already aware of the problem.
The city says people should wait to report the problem to 311 until it has been more than 48 hours.