Sheriff's deputy, husband accused of murder leave jail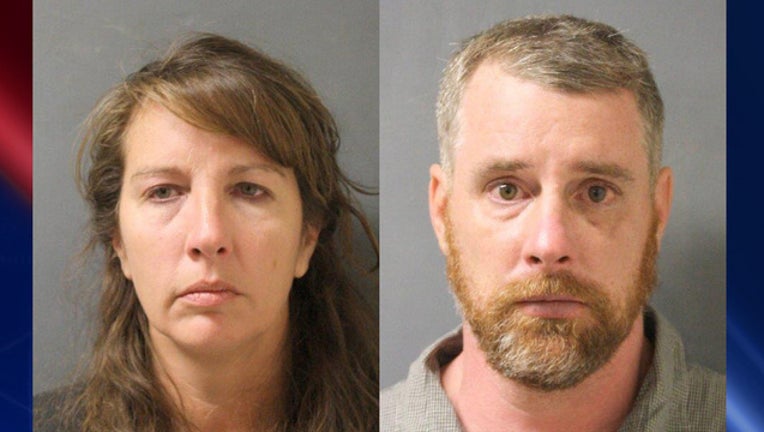 article
HOUSTON - A Houston-area sheriff's deputy and her husband - both charged with murder in the killing of a man during a late-night confrontation - were released early Friday after turning themselves in to authorities.
Chauna and Terry Thompson were freed after each posting bonds of $100,000, the Harris County sheriff's office said Friday.
Both are scheduled to have their first court appearance on Tuesday.
They surrendered to authorities late Thursday after a grand jury that day handed up separate murder indictments against them.
The Thompsons are accused of causing the May 28 death of 24-year-old John Hernandez outside a Denny's restaurant in Sheldon, an unincorporated community 17 miles (27.36 kilometers) northeast of Houston.
Authorities allege Terry Thompson confronted an intoxicated Hernandez after seeing him urinate in public. Chauna Thompson, who was off-duty, arrived later to help her husband subdue and restrain Hernandez.
Cellphone video recorded by an unidentified bystander has been released by the bystander's attorney and posted on local media websites. The footage shows a man who appears to be Terry Thompson lying on top of Hernandez. Jack Carroll, the attorney for the person who recorded the video, has said the man restraining Hernandez used an illegal chokehold.
A medical examiner ruled that Hernandez died of lack of oxygen to the brain caused by strangulation and chest compression.
Chauna Thompson remains on administrative leave indefinitely, and her employment status will not be decided until after the internal investigation, Harris County Sheriff Ed Gonzalez said Thursday.
Greg Cagle, an attorney for Chauna Thompson, said Friday that Hernandez attacked the deputy's husband and it was reasonable for Terry Thompson to hold down Hernandez as a result of being attacked. Cagle said the indictments of the Thompsons were politically motivated by the district attorney's office.
Attorney Scot Courtney, who is representing Terry Thompson, said there wasn't enough evidence to warrant a murder indictment against his client, and that Terry Thompson did not intend to cause Hernandez's death. He also criticized the district attorney's office for putting the case before a grand jury so quickly.
Relatives of Hernandez said they are pleased the Thompsons were indicted, but that they won't stop putting pressure on authorities to bring justice in the case.
Despite the indictments, the criminal investigation continues with the assistance of the Texas Rangers and the U.S. Justice Department, Ogg said.
Hernandez was Latino and the Thompsons are white. Authorities have said they are investigating whether race was a factor in the incident.