Salvation Army opens 13 cooling stations across North Texas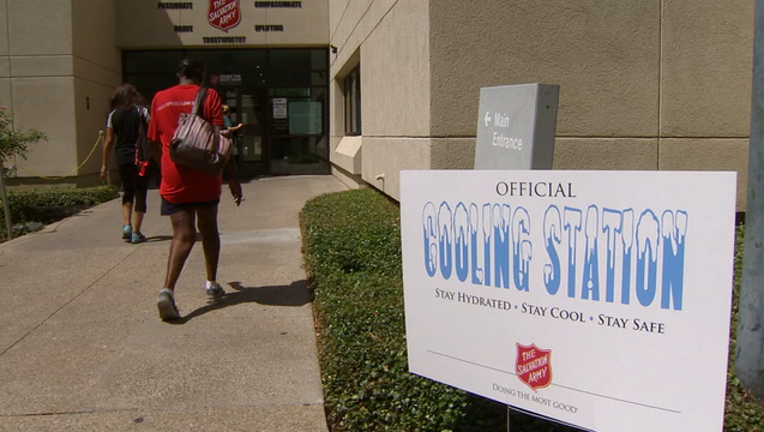 Salvation Army opens 13 cooling stations across North Texas
To help North Texans battle the dangerous summer heat, The Salvation Army has opened up its cooling stations.
There are 13 cooling stations across the area that are meant to help the homeless, people without air conditioning and those who work outside.
"To see them and their faces are all sweaty their shirts are sticking to their backs and to see them to grab a bottle of water and to see them leave out of here and to see their smile across their faces it warms our hearts here at Salvation Army," said Rebecca Lex.
Cooling stations at the Salvation Army Homeless Shelter in Dallas and Fort Worth are open seven days a week from 9 a.m. to either 8 p.m. The 11 other locations are only open on weekdays from 9 a.m. to 5 p.m.
LOCATIONS
The Salvation Army Homeless Shelter
5302 Harry Hines Blvd.
Dallas, Texas
The Salvation Army Homeless Shelter
1855 E. Lancaster Avenue
Fort Worth, Texas
Cedar Crest (East Oak Cliff)
1007 Hutchins Road
Dallas, TX  75203
Denton
1508 East McKinney Street
Denton, TX  76201
Irving
250 East Grauwyler Road
Irving, TX  75061
McKinney
600 Wilson Creek Pkwy
McKinney, TX  75069
Arlington
712 W. Abram Street
Arlington, TX  76013
Oak Cliff
1617 W. Jefferson Blvd
Dallas, TX  75208
Garland
451 W. Ave D
Garland, TX   75040
Lewisville
207 Elm Street
Lewisville, TX  75067
Plano
3528 E. 14th Street
Plano, TX  75074
Northside Corps (N. Fort Worth)
3023 NW 24th St
Fort Worth, TX 7610
The Salvation Army, Ellis County
620 Farley St.
Waxahachie, TX 75165