Salvation Army launches Christmas gift drive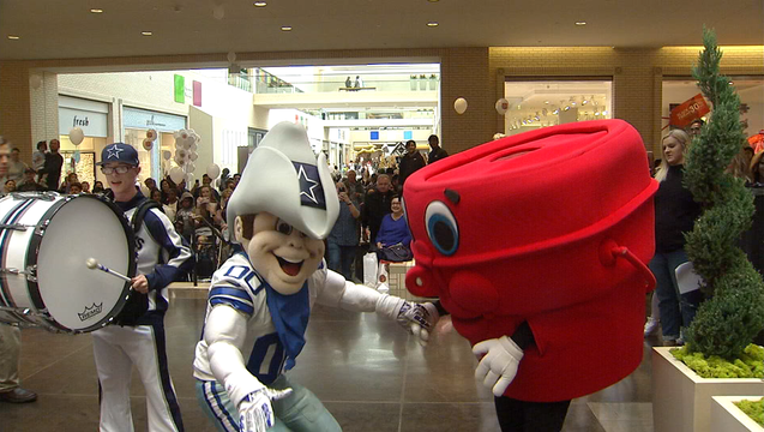 The start of the holiday season is also the start of the helping season.
The Salvation Army on Friday kicked off its effort to provide Christmas gifts for 50,000 names on its Christmas trees around the area.
The drum beats from the Dallas Cowboys rhythm and blue drum line drew in the crowd for the kickoff inside Northpark Center. The gift collection for the Angel Tree program originated at Northpark in 1984.
The Salvation Army starts its work right after Labor Day by interviewing mothers, making sure the families referred by social service agencies and schools are truly needful. It has identified about 50,000 people in North Texas who would not have Christmas without the Salvation Army and the generosity of strangers.
The need exists even as the Texas economy is the best in the nation and unemployment is at record lows.
"What we have noticed is as the economy booms there is a bigger gap between the haves and the have nots in the Dallas-Fort Worth five county area," said Salvation Army Maj. Barbara Rich.
The jolly white bearded fellow in the red suit became serious for a moment, encouraging folks to experiencing the joy of helping others by giving gifts for children the gift givers will never meet.
"By taking an angel off the Angel Tree and helping those families have something special, help the Salvation Army help them," Santa said.
It brought attention when Zeke Elliott donated Dak Prescott into the Salvation Army red kettle after Dak scored a touchdown during Thursday's Thanksgiving game.
The officials flagged the boys for unsportsman like conduct, but many millions more at home were watching and got a reminder about the donation drive effort.
"I'm not one of the officials so I might be a little biased, but I thought it was wonderful. Anything that we can do to use the help of the Cowboys to raise awareness for our need for funds at this time of the year so that we can help," Rich said.