Retail to-go will allow many North Texas businesses to reopen Friday
DALLAS - Many retail stores will reopen Friday for to-go service, and Texas Governor Greg Abbott says more business openings could be on the way, with safety precautions.
The governor is reopening Texas with feedback from business owners and industry leaders.
Texas jeweler Kendra Scott is one of about 40 stakeholders on the governor's special advisory council.
It's been five weeks since non-essential retail stores were closed, and many retailers are gearing up for what their new normal will look like.
But Kendra Scott said any further reopenings will likely be in phases, done slowly and carefully.
"We're taking this day by day. We're going to really watch it because COVID is in control, and we have to be very thoughtful about how we approach reopening business," Scott explained.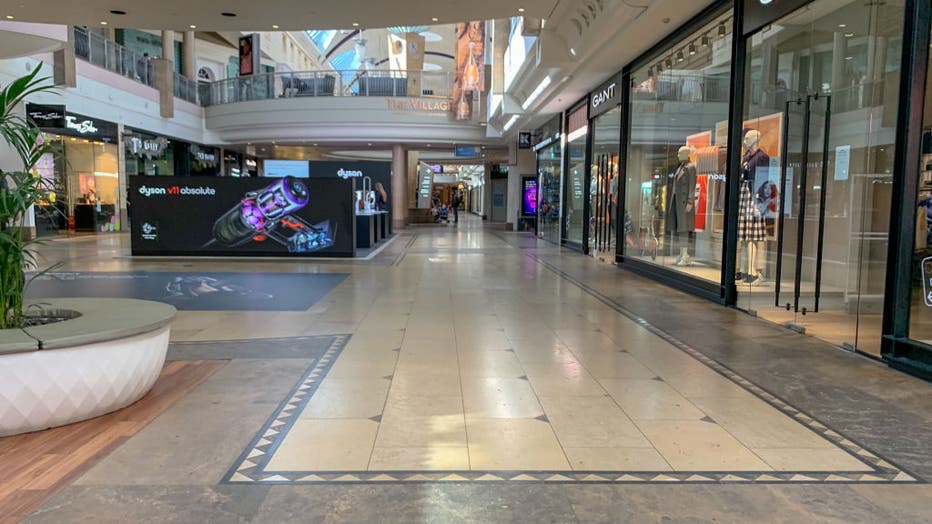 U.S. retail sales plummeted 8.7% in March, a record drop as the viral outbreak closed down thousands of stores and shoppers stayed home. (Photo by Robin Pope/NurPhoto via Getty Images)
As many are eager to get back to work, "retail to-go" is the first phase of businesses opening up.
Kendra Scott employees are busy prepping for the new normal starting Friday, with employees in masks and gloves practicing social distancing in the workplace, and with curbside, non-contact pickup for online orders.
"Obviously, this has been devastating to the Texas economy. So it's how do we start to slowly, thoughtfully, and most of all, safely reopen the state. And I think these first measures are a great way to begin that," Scott added.
The governor is expected to announce even further reopenings on Monday, with businesses being given a week to prepare.
Not every county will be treated equally, as some harder hit areas will face tighter restrictions.
On Wednesday, Gov. Abbott suggested restaurant dining rooms and salons could be next to partially reopen with safety precautions.
"What you're seeing in some other parts of the world is social distancing within restaurants that the tables are more than six feet apart. There's contactless, you know. There's no cash transactions happening in most of these places. Those are going to be some of our new normals," Scott said.
There has been some pushback, with some lawmakers worried the reopenings may be coming too soon and putting public health at-risk.
"We can't go too fast too quick," Scott added. "The worst thing that could happen is we go too fast too quick, and we have to go back to where we were before. Right. So we really are going to be thoughtful."
RELATED: Coronavirus coverage
While retail-to-go obviously limits the degree to which people are interacting or congregating, there are still guidelines in place to keep customers and workers safe.
On the eve of something new, Michael Hamilton, who co-owns La Foofaraw in Downtown Plano, is trying something new.
He's showing off what's for sale on Facebook Live.
"I'm of the age where I didn't grow up with all that so it's been a learning curve for me," he said.
His business is one of many across the state of Texas eager to reopen for business Friday, with what's been dubbed retail-to-go.
And while people can't browse his store, he's doing everything to make sure they'll buy from it.
"Call my store, I'll hook you up on virtual shopping and walk you through the store with my phone. We'll package it up, I'll disinfect the packages, put my PPE on, and put it in your car for you," he said. "I'm desperate. I need you to come buy something but I don't want you to be unsafe."
Retail-to-go is part of phase one of Governor Greg Abbott's strategy to reopen the Texas economy.
Area officials are urging stores and customers to make sure this small step toward normalcy is done safely.
Dallas County amended its order Wednesday, asking that payments are done over the phone or internet.
Employees should wear face masks, put items in a backseat or trunk, and wash hands between each interaction.
Officials say a staggered, methodical return to normal is safest.
"If you look at what every paper and consultant looking at this in the country, including the Trump administration, is looking at, don't do a few every other day. Do them in sections. Then test around that section. See if the numbers go out or stay stationary, then do another section," Dallas County Judge Clay Jenkins said.
Malls are preparing as well.
At the Galleria Dallas, customers will be able to pick up products from stores without exterior doors at a central location, in front of the Westin Hotel from noon to 6 p.m.
It's an adaptation for so many.
Easing back into normalcy with a new way of operating.