Police escort Italy High School to Dallas Roosevelt football game due to safety concerns after fight
ITALY, Texas - Italy High School had police escort its high school football team to its game against Dallas Roosevelt on Thursday after a massive fight between Roosevelt and Fort Worth Eastern Hills ended their game early last week.
Italy ISD says "due to safety concerns" an officer from the Italy Police Department followed the team to the game and had officers on the Italy side of the field.
Last Thursday, refs called off the game between Roosevelt and Eastern Hills in the fourth quarter after a large broke out between players on the field. Some fans from the stands made their way down to the field to join in.
READ MORE: VIDEO: Wild fight ends high school football game between Fort Worth Eastern Hills and Dallas Roosevelt
Roosevelt High School Mustangs took on the Italy High school Gladiators.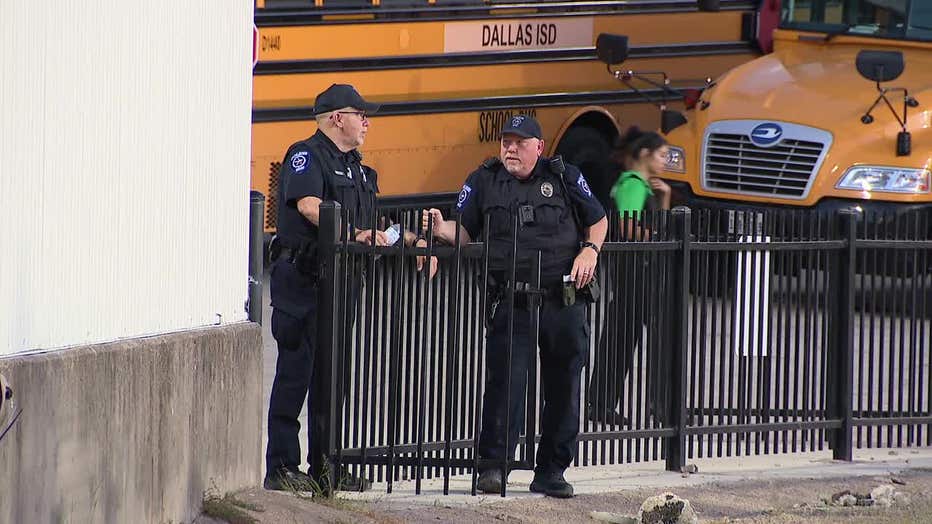 However, Roosevelt's varsity players weren't on the field in the first half.
The half-game suspension was the punishment for last week's fight.
Ereke Burkhalter is the parent of a freshman at Roosevelt. 
"He gets to play. They asked the parents if JV could fill in," she said. "I allowed him to because he loves the game, and that is what we are here for." 
Fort Worth ISD made Eastern Hills forfeit their game next week. 
Wednesday, Italy ISD informed parents the team would have a police escort to Dallas and two officers would be near the sideline as an added precaution. 
It's a move some Italy parents thought was an appropriate response. 
"If it'll keep the conflict down and keep everyone in control, I think we need it," said parent Laquinqua Wilson.
But that wasn't the same feeling on the other side of the field. 
"I think that was just a mistake last week. This is a new game, a new chance," Burkhalter said. "Just let them play and have fun. I think they just overreacted. We are not here to fight. We are just here to win the game."
"It's an overreaction, but its good. The more the better, right," said Roosevelt fan Greg Searles. "I don't think you are going to have the same situation you have with Italy that you will have with Eastern Hills. It's a slight overreaction based on who you are playing, but the more the better. You need control."
The Dallas ISD police chief met with the Italy officers at the start of the game. He told FOX 4 the district had a regular game police presence. 
While the disadvantage on the field showed greatly in the first half, Searles is happy the JV players got some varsity game experience.
"It's a beautiful day for football, a beautiful night. No rain," he said. "These kids get a chance to play. It's a good thing."