Richland Hills officers fatally shoot man with rifle
RICHLAND HILLS, Texas - Police in the Fort Worth suburb of Richland Hills shot and killed a man armed with a rifle.
Neighbors describe what they saw Friday afternoon in the moments leading up to the violence, watching a man in their neighborhood running down the street with a rifle.
Ring camera footage shows the moments before police arrived around 3 p.m. Someone could be seen running down a neighborhood street screaming to call the police.
Moments later, the video shows a man holding a rifle run down that same street.
Officers from Richland Hills and North Richland Hills responded to the call and encountered the armed man. Several shots were fired.
Richland Hills police say its officers and officers from North Richland Hills initially responded to a shots fired call. They found the gunman on a major boulevard.
Police say he pointed his rifle at officers, and the two Richland Hills officers fatally shot him.
A family that lives in a nearby neighborhood shared Ring doorbell video of a man carrying a rifle and running down their street in Richland Hills. It was taken on Hardisty Drive near Boulevard 26.
Moments after a man runs across the frame screaming for police, video shows another man enter the camera shot. He appears to be holding a rifle. 
Police did not answer questions about who made the initial shots fired call. Officers would eventually encounter this man on Boulevard 26.
A woman and her boyfriend were visiting her grandmother who lives next door to the gunman's home. Her boyfriend was outside in a parked car when the gunman ran by.
"As soon as I get in the door, I hear arguing. And my grandma looks and sees the guy with the gun and cocks it and looks at her," recalled Sina Reibartsch. "They make eye contact, and she shuts the door and says, 'Stay inside!' And Gavin was outside with this guy and this huge gun. It was really scary."
"I was keeping my head down," Recalled Gavin Hilo, Reibartsch's boyfriend. "I got in the driver side afterwhile and just sped off once he got far enough away."
"I think if we had gotten there maybe 30 seconds later, we could have gotten caught up in that," Reibartsch said. "I think it's really lucky no one got hurt. I think it's almost a miracle."
As for the police shooting itself, there is very little new information to report.
SKY 4 captured the rifle in the middle of the street near the armed man's body. It also captured more than a dozen evidence markers nearby.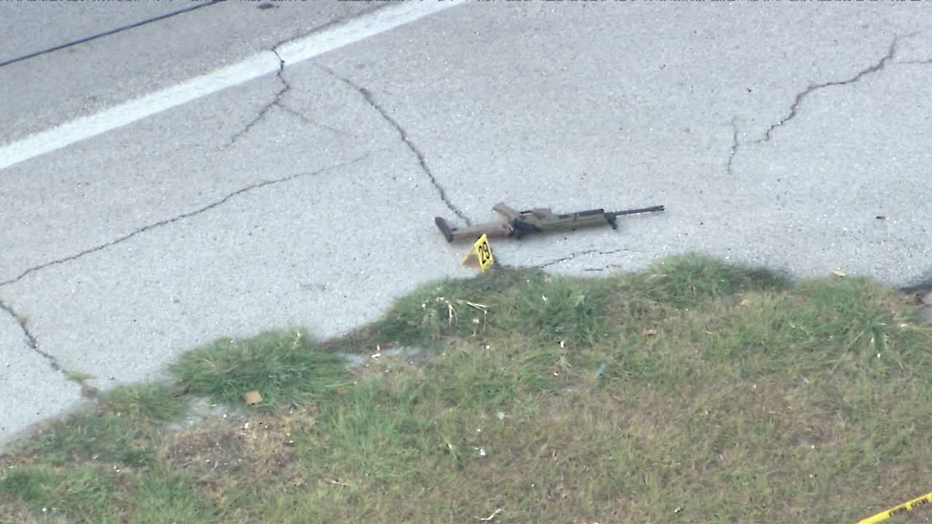 When questioned about how many shots officers fired, a clear answer was not given.
It's unknown how many times the man was shot.
His identity is not being released at this time.
No officers or innocent people were hurt.               
The Texas Rangers will now be investigating the police shooting portion of this investigation.
As for the shots fired call in the neighborhood, other agencies will assist in that investigation.