Police officer in Wise County shot, search for shooter continues
RHOME, Texas - A Blue Alert remains in effect, and the Wise County Sheriff's Office is offering a $5,000 reward for tips to find and arrest the man they say shot an officer Sunday night.
Deputies know who they are looking for and say the convicted felon may still be armed.
Royce Wood, 43, has an extensive criminal history dating back to 2007. He's been convicted on burglary, robbery and theft charges.
The Wise County sheriff says he knows the Rhome police officer who was shot. The officer, who has a wife and kids, just started at the Rhome Police Department a few days ago. He'll be okay, but Wood remains at large.
Authorities say Wood shot a Rhome police officer in the leg Sunday night and took off on foot. He was last seen wearing a baseball cap with a camo bandana, a green shirt and shorts when he disappeared into a wooded area off FM 407.
"We're anxious to get him behind bars," said Wise County Sheriff Lane Akin. "I will do everything we can to see that it's not as soon as possible."
Sheriff Akin says deputies have been searching for Wood since a separate incident Saturday night. The sheriff says Wood broke into a home off Coyote Trail near Highway 287 and robbed the occupants. They later identified him and called 911 when Wood showed back up in the neighborhood on Sunday.
"We were given a description of the motorcycle that this guy was driving, what he was wearing or what he looked like," Akin said.
Two Rhome police officers spotted Wood and a female passenger on FM 407 and pulled them over. The sheriff says Wood started running, and the two Rhome officers gave chase.
"He went a certain distance. He turned and fired several shots in the direction of the officers, and one of the officers was hitting his lower leg," Akin said. "That other officer stopped immediately to render aid to his partner."
Wood got away.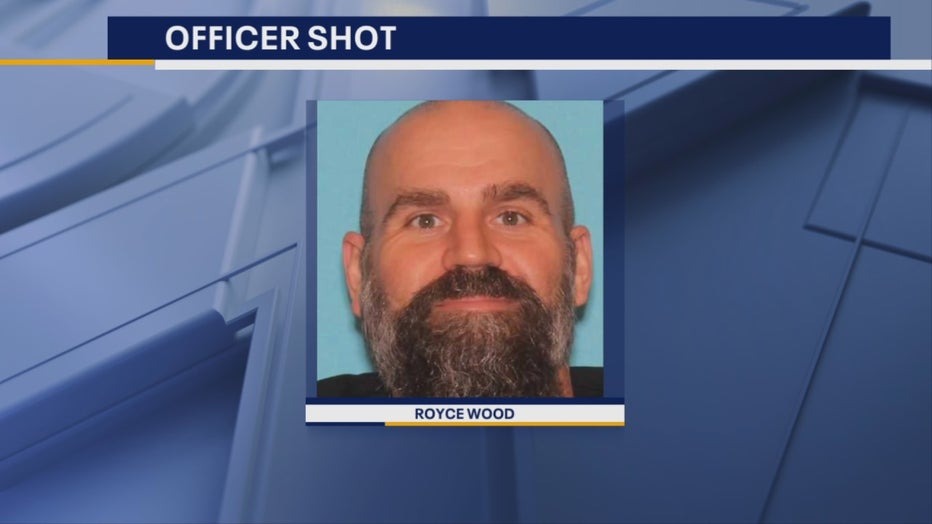 The Rhome officer was taken to JPS Hospital. The bullet went through his leg. He was treated and released.
The shooting was captured by a home surveillance camera.
Michelle and John Chamberlain say they quickly realized it was gunfire when they saw several law enforcement vehicles around their home.
"Saw the shooter run through the church parking lot that's right behind our house into the woods. Of course, we didn't know it was a shooter because we thought we had just heard fireworks or something," Michelle said. "We walked out into the backyard to see what was going on, and the sheriff immediately says 'Go back in the house and stay there!'"
Moments after the gunshots, Tyler Dickson's surveillance footage shows Wood running through The Hope Church parking lot and into the grassy area nearby. Dickson lives next door to the Chamberlains and says he checked his security cameras after he started getting texts and calls from his neighbors. 
"We tried to go to bed, but it's pretty hard to go to sleep when helicopters are flying overhead," John said.
Meanwhile – Rhome residents still a bit on-guard as the search continues.
"I did do a walk around my house to make sure I wasn't hit. I didn't find anything," Dickson said.
"There were bullets flying around over here, but fortunately we didn't have any broken windows or anything like that," John said.
Overnight, nearly 200 law enforcement officers searched for Wood in a five-mile radius but came up empty.
On Monday in daylight, Wise County SO deputies, DPS troopers, Texas Rangers and ATF agents went door-to-door at a neighborhood near the scene.
Sheriff Akin is cautioning residents in the area to keep their doors locked until Wood is caught.
"So it's an immediate all hands on deck because we've got to take care of this guy," he said.
The officer who was shot is new to the Rhome Police Department but has been a law enforcement officer for some time.
Anyone with information is urged to contact the police. You can remain anonymous.