Police: Man was stalking, harassing Dallas woman before murdering her
FORT WORTH, Texas - Fort Worth police say there is evidence the suspect charged with murdering a single mother from Dallas had been stalking her.
Abigail Saldana was shot and killed just a few weeks after she told her mother she found a tracking device on her vehicle, and she thought someone was following her.
The 22-year-old was found dead inside that car Tuesday night. It had crashed into a sign on Amon Carter Boulevard at Highway 183. She had multiple gunshot wounds. 
Officers arrested 54-year-old Stanley Szeliga for her murder.
New details were released on Friday, but for now, Fort Worth PD investigators are withholding the arrest warrant affidavit.
"They said they were not comfortable with that yet. The investigation is still ongoing," said Brad Perez, FWPD spokesman.
Fort Worth police said detectives found evidence that confirmed he had been stalking and harassing Saldana just prior to the shooting. They showed up at his apartment in Irving on Wednesday with members of the Fort Worth SWAT team and a search warrant.
Police said Szeliga refused to surrender and was ultimately found on the balcony of his apartment with a self-inflected cut wound.
He was arrested, taken to the hospital for treatment and then booked into the Fort Worth jail on a murder charge. His bond was set at $250,000.
Szeliga's connection to the victim is still unclear.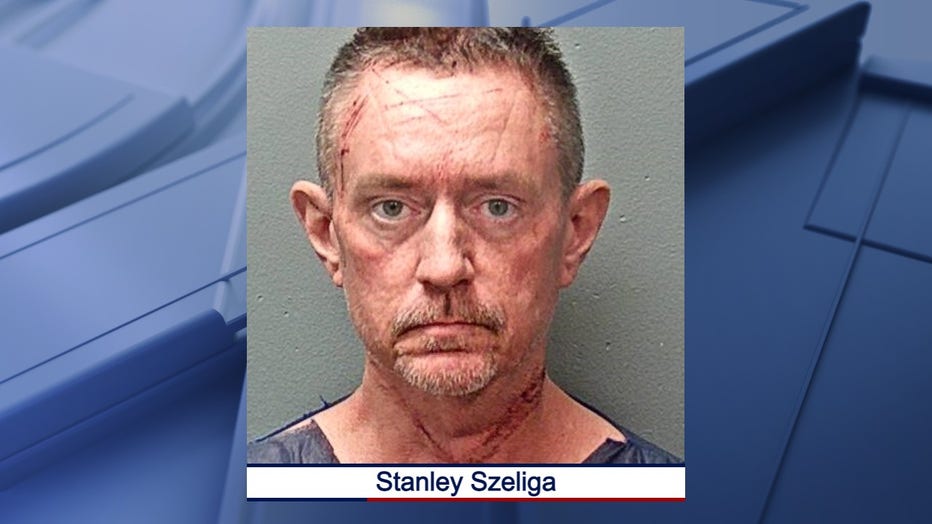 "That specific information has not been released yet. The only thing that homicide did state was the fact that the suspect had been stalking and had been harassing the victim recently. Now as far as how long and what regards that was, they haven't released but there was obviously some sort of connection there," Perez said.
Records show he has a prior criminal history in California that includes domestic violence.
Saldana, who is originally from Wichita Falls, was a single mother of a 5-year-old boy. 
Her mother told FOX 4 she wasn't sure how her daughter knew Szeliga or why he had been following her.
"I don't know the person, I don't know the connection. I'm waiting to hear back," said Jessica Contreras, Saldana's mother.
She told FOX4 her daughter gave one of her friends the license plate number of a vehicle she believed had been following her. In recent weeks she also posted on social media about finding a tracking device on her car. She also told her mother about the device.
"Apparently he had been following her," Contreras said. "The only time she mentioned it to me was when she found the tracking device. If anything was going on prior to that, that tracking device is probably what alerted her and scared her and I'm glad she took action and sent someone the license plate."
While not yet revealing details, police did confirm Friday the tracking device is part of the investigation.
"I'm certain a more clear picture as far as what actually transpired will be in the warrant when that is released," Perez said.
Contreras says Saldana loved life and was providing for herself and her young son.  She says she will press forward seeking justice for her daughter's killer.
RELATED: Man arrested for murder of Dallas woman who may have been stalked
A circle of close-knit friends gathered amidst a sea of purple and white balloons Friday to remember Saldaña.
"It's so beautiful to see us all come out like this for my friend. For our friend. It's just so beautiful to me," her friend, Tots, said.
Her friends describe Saldaña as a bright and bubbly person who treated her friends and coworkers like family ever since she moved to the Metroplex from Wichita Falls two years ago.
Most of Saldaña's friends did not want to talk about the circumstances behind her death.
Instead, choosing to focus on the joy she brought to their lives.
"We're all going to be better people," her friend, Courtney, said.
"We're all going to take something from this. Whatever you take from it and apply it to your life and I hope it brings something positive," Tots added.
Friends Courtney and Tots - who didn't want to share their full names with FOX4 - said they plan to push forward while keeping Abby in their hearts.
"Keep her voice in your mind, keep her smile in your mind, keep those memories active," they said. "Don't get so caught up in missing her that you forget all the great stuff."