Crash during police chase from Garland to Dallas leaves 1 dead, 2 hospitalized
DALLAS - One person is dead and two others are hospitalized after police said they were ejected from a vehicle that crashed while being involved in a police chase that started in Garland and ended in Dallas Saturday night.
Multiple law enforcement agencies are investigating this pursuit and crash. 
Dallas police are investigating the crash portion, while Garland police are handling the criminal investigation.
The chase started just after 10 p.m., when Garland PD officers recognized a white Tahoe and tried to pull the vehicle over near Kingsley Road. 
Multiple North Texas police departments had been looking for that specific white Tahoe and its driver.
"Garland officers got into a pursuit with a white Tahoe, which they believed to be involved in a string of burglaries in the Metroplex," Garland PD officer Felicia Jones said.
Police said those involved in the burglaries were armed and considered "extremely dangerous."
READ MORE: At least 2 injured in crash involving suspect fleeing police in Fort Worth
The chase went into the city of Dallas, before ending in the 12200 block of Greenville Avenue, near 635, crashing in front of a RaceTrac gas station.
The vehicle police were chasing crashed after the driver lost control, causing it to flip on its side. No other vehicles were involved in the crash.
"He was traveling at a high rate of speed, and at some point, he failed to maintain control and overcorrected. That's when the vehicle overturned," Jones said.
Debris and mud mark the spot where the high speed chase from Garland to Dallas ended in a deadly crash.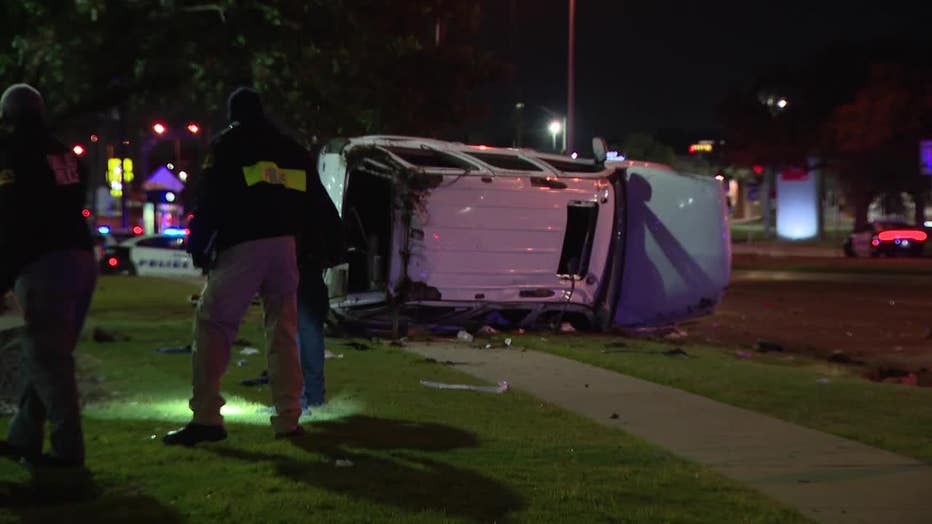 There were five people inside the vehicle, and three were ejected from the vehicle. Police said the other two tried to run away, but were caught by officers.
The three who were ejected were hospitalized in critical condition. One later died from their injuries.
No officers or innocent bystanders were injured.
"I have not confirmed whether all five occupants were participating in the previous burglaries, but we know the vehicle was involved and the person driving is possibly the one involved," Jones said.
The alleged driver was identified as 18-year-old Joey William Jarvis. He was arrested on two counts of evading arrest and detention causing serious bodily injury and three counts of engaging in organized criminal activity.
"[Jarvis] had multiple warrants, some through Dallas County Sheriff's and Carrollton PD and Garland PD," Jones said. 
Police said additional charges against Jarvis are pending. No bond has been set.
It's still unclear if Jarvis' passengers were also teenagers, as their identities have not yet been released.
We do not know whether the driver or passengers were wearing their seatbelts. 
Video from the scene shows officers finding some kind of duffel bag, which looked to have some kind of weapon, but Garland police are not saying if any firearms were recovered from inside the vehicle.